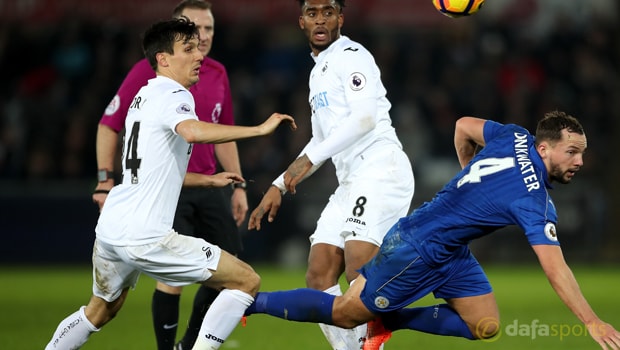 Leicester midfielder Danny Drinkwater insists the squad can turn their Premier League form around as they look avoid suffering relegation.
The midfielder was one of the key members of the Leicester squad in 2015-16 as they shocked the world of football by winning the Premier League.
However, Drinkwater and co have been unable to find any consistency through the current campaign and their form since the turn of the year has suggested they could face relegation.
Leicester's 2-0 defeat at the hands of Swansea on Sunday leaves them without a victory or a goal to their name in 2017.
The Foxes, who are priced at 2.63 to be relegated, currently sit 17th in the Premier League, one point outside of the bottom three, and at risk of being one of the few sides to win a top-flight title before being relegated the following term.
Drinkwater admitted the squad are disappointed at their recent run but feels they do have the quality to pull clear of the bottom three by the end of the campaign.
"It's another defeat that we're not happy with, so we've just got to keep pulling in the same direction and hope it'll turn," Drinkwater said.
"We're giving ourselves a harder challenge by going two goals down. We went in at half-time and we knew we could make something happen.
We didn't today, but if there's a group of players that can turn things around, it's us. "We need to force our luck rather than wait for it.
We've waited too long for it now, so we need to push ourselves and make sure we do all we can to get the three points next time around.
"There's no way that it's over and we all know that in there (the dressing room). Come the end of the season, we'll turn it around I'm sure."