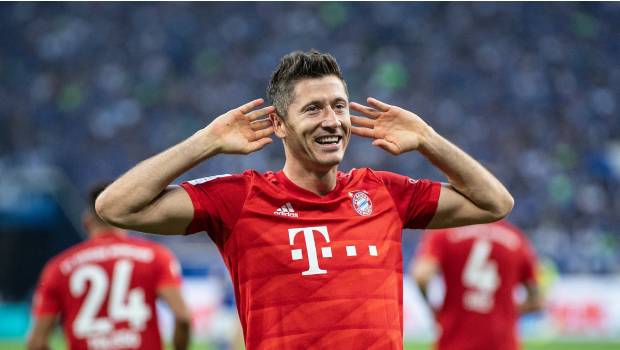 Bayern Munich continued its dominance in Bundesliga by winning the title for the 8th consecutive time on Tuesday. The defending champions faced against Werder Bremen at Weserstadion Stadium in Tuesday's league match. The game kicked off in a 42,000-capacity empty stadium because of the health issues surrounding the global pandemic.
Munich's star player Robert Lewandowski scored a goal at the 41st minute of the game that saw the Bundesliga race come to an end. This was Lewandowski's 31st goal in this season of Bundesliga. With 76 points in the league table they retain the No. 1 spot. Bayern Munich created history by winning the league for a record 8th consecutive time. This will be a tremendous uphill walk for any club in European football leagues to even replicate this feet. This is a bizarre win for the German giants looking at the present scenario of the world, but this victory will stay in their memory for a long time. As for Hans-Dieter Flick who took the reign as Head Coach as Bayern Munich from this season is a great achievement. Now as the league technically coming to an end Munich's management will start looking for prospects for the next season. Bayern is already in a dual with Inter for acquiring Perisic.
On Wednesday the final showdown of another European football league took place. Juventus faced Napoli in the finals of Coppa Italia at Olimpico Stadium in Rome. This was Napoli's first finals in Coppa Italia since they won the title in 2014. Like other sporting events this match was also played behind closed doors. Juventus tried to draw the first blood at the 5th minute of the game, but Alex Meret denied the attempt by Ronaldo. His counterpart Gianluigi Buffon made a total of 7 saves among which 4 were very crucial. Napoli had the maximum attempts of shot with 12 out of which 8 were on target. In extra time Napoli came very close to scoring a goal but could not get the ball past Buffon and at full time the scores were 0-0. The match went to a penalty shootout to decide the winners. By penalty scores Napoli won the match 4-2. Napoli lifted the Coppa Italia trophy after a 6-year gap. Whereas Ronaldo's disappointing stint in Juve continues to haunt him.