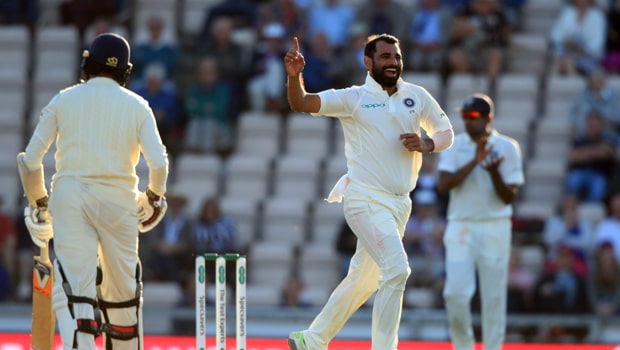 With 17 wickets in a total of 7 matches at an average of 17.29, Mohammed Shami was India's second highest wicket-taker during the ICC World Cup 2015. If the list of highest wicket-takers in the entire tournament is considered, Shami was third, behind Mitchell Starc and Trent Boult—the joint highest wicket-takers with 22 wickets each—and his fellow teammate Umesh Yadav (18).
He looked all set to be the spearhead of India's pace attack in the years ahead. However, a series of injuries and the simultaneous rise of pacers like Jasprit Bumrah and Bhuvneshwar Kumar saw him going out of contention as India's premier pacer. He did make a good comeback in the longest format of the game but it looked like he had lost his mojo as far as white ball cricket was considered.
However, he wanted to show that he wasn't done yet. And here he is in India's World Cup squad after a terrific comeback to ODI cricket in the last six months. He had a rusty start when he was given the chance to play in the series against the Windies back in December 2018. He returned with expensive figures of 2/81 and 1/59 in the two ODIs at an overall economy rate of 7.00. But he unleashed his all new avatar in 2019 which was very similar to the bowler he used to be four years back.
In the 11 ODIs Shami has played this year so far, he has picked up 19 wickets at an excellent average of 26.42 and a decent economy rate of 5.13. He was seen bowling with good pace during the consecutive series against Australia and New Zealand. His overall rhythm was excellent and he looked hungry for wickets.
He continued his good run of form in the IPL also as he emerged as the fifth highest wicket-taker among pacers with 19 wickets in 14 matches at a good average of 24.68 and an excellent strike-rate of 17.05. Shami showed once again that he was ready to be one of the main figures of India's pace attack in limited overs format and the selectors rewarded him with a place in India's World Cup 2019 squad following his superb performances.
It remains to be seen whether he starts ahead of Bhuvneshwar Kumar as India's second pacer during the mega-event in England. With Hardik Pandya and Jasprit Bumrah being certain starters, it's unlikely that India would want to go with both of Kumar and Shami. But the 29-year-old has certainly made his case with his performances and now he only needs to carry on the good work as and when he gets his chance to play.
Written by: Prasenjit Dey