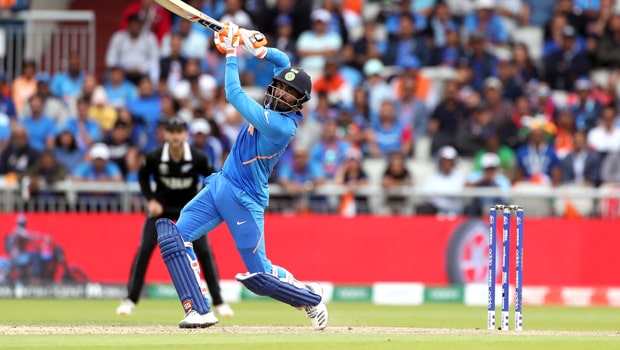 A faction of the cricketing fraternity had criticized the Indian selectors when they had opted to pick Ravindra Jadeja ahead of an extra seamer in India's World Cup bound squad. An extra seamer seemed to be the more logical option to them considering the length of the tournament and the seaming conditions in England. However, the Indian think-tank knew how the conditions would dry up during the business end of the tournament. Moreover, India could have needed an extra batting option in some of the matches and Jadeja could be used as an option at the expense of a specialist spinner.
India didn't use his services for the major part of the tournament but when they did, Jadeja showed what he is capable of. Jadeja didn't get his opportunity to play until India's last league game against Sri Lanka. Although India didn't require his batting services in this match, he showed why he is as good as a specialist spinner as he registered an economical spell of 10-0-40-1. Moreover, he was brilliant in the field as usual and such a good performance cemented his place in the XI for the semi-final against New Zealand.
What happened in the semi-final was a heart-wrenching experience for the Indian fans. They lost to New Zealand as a result of a complete batting failure. However, there was one man who stood tall amidst the ruins. He was none other than Ravindra Jadeja. The 30-year-old gave India hope when a crushing defeat was looking likely. India were 92/6 while chasing 240 runs and that was the moment when the southpaw walked out to bat. What he did next was one of the greatest recovery acts in ODI history. Jadeja smashed 77 runs off 59 deliveries in the face of adversity and shared a 116-run partnership for the seventh wicket along with MS Dhoni. He kept giving hope to the Indian fans with every shot he played and all of it came to an end once he got dismissed in the 48th over of the innings. MS Dhoni tried his best after Jadeja departed but it was too much for him alone and, thus, India fell short of the target by 18 runs.
Jadeja had been outstanding in this match with the ball as well. He was the most economical of all Indian bowlers having conceded 34 runs in his full quota of 10 overs. Moreover, he had picked up the all-important wicket of Henry Nicholls to go with that as well. So, Jadeja's all-round impact on the team was far more immense than anybody could have ever imagined it to be.
If you look at his ODI statistics, a record of over 2000 runs with the bat and 176 wickets with the ball in a total of 153 ODIs is no child's play. Modern day cricket demands teams to have decent batsmen lower down the order as well. Jadeja is a specialist all-rounder in Tests and there is no reason why he can't play the same role in ODIs. And he has shown that he can always contribute with the bat if the regular batsmen fail to click. He might have fallen out of favour from the ODI team after the rise of spinners like Yuzvendra Chahal and Kuldeep Yadav but it's high time that India recognized him as a deserving regular in the ODI team.
Written by: Prasenjit Dey