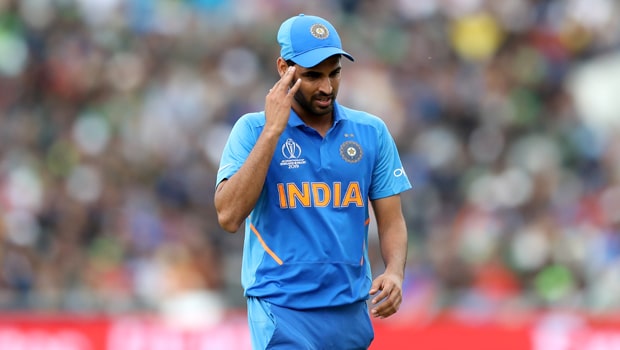 Before the World Cup started, nobody was sure about who would partner Jasprit Bumrah with the new ball. Bhuvneshwar Kumar's declining ODI numbers and Mohammad Shami's sudden burst in the format since the latter stages of 2018 had created a good contest for that one spot in the team.
Bhuvneshwar had been averaging a mediocre 32.06 in ODIs since 2018. His Indian T20 League form wasn't impressive either as he picked up only 13 wickets in 15 matches at an average of 35.46.
However, Virat Kohli and the Indian team management would have mulled over a thousand times before breaking the successful pairing of Bumrah and Bhuvneshwar before such an important tournament. That's why they decided to take their chances with this pair in the mega event once again. And Bhuvneshwar didn't disappoint at all as he stepped up with five wickets in the first couple of matches at an excellent average and strike-rate of 18.80 and 24.0 respectively. Bumrah had also done his bit with the same number of wickets at an equally good average and strike-rate of 19.20 and 24.0 respectively.
Just when this pairing had started to look threatening once again, Bhuvneshwar hobbled off the field four deliveries into his third over of the match against Pakistan. Reports later revealed that he had suffered a hamstring injury and hence, he would sit out of the next two matches for India. This was disappointing for Bhuvneshwar who was bowling so well but now it presents a good opportunity for Shami to prove his mettle once again.
It's more than guaranteed that he will play India's next two matches against Afghanistan and the Windies. And this will be his second World Cup outing after the 2015 edition, during which he was India's second highest wicket-taker—also the third highest in the tournament—with 17 wickets at an outstanding average of 17.29.
He went out of the ODI scene after that due to a series of recurring injuries but his second coming into this format has been quite inspiring. Shami has taken 19 ODI wickets in 2019 at an impressive average of 26.42. His economy of 5.13 has been quite decent too. Moreover, if we look at his Indian T20 League exploits during which he claimed 19 wickets at an outstanding strike-rate of 17.05, it gives a fair idea about how good he has been this year.
His pace has also increased and he is now able to sustain that throughout his spell. Now, it's high time that he builds upon the base he has laid for himself with strong performances in the next couple of matches.
Written by: Prasenjit Dey