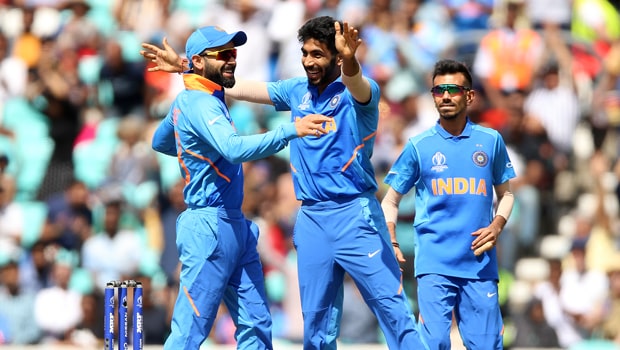 The ICC World Cup 2019 is going to be the first ever World Cup for all Indian players except the likes of Virat Kohli, Rohit Sharma, Shikhar Dhawan, MS Dhoni and Mohammad Shami, who have already featured at least once previously. It is a moment to savour for the other 10 players in the squad as this is going to be the first time they are going to be a part of this mega event. However, only a few of them will go on to make a significant impact in the tournament. So, who are those Indian players we need to keep an eye on during the World Cup? Let's have a look.
Jasprit Bumrah
The 25-year old has become the spearhead of India's pace attack ever since he made his international debut in 2016. He has carved out a tremendous record for himself in ODI cricket with a tally of 85 wickets in just 49 matches at an excellent average of 22.15 and a mean economy rate of 4.51. He was seen in good rhythm in the warm up matches as he returned with figures of 4-2-2-1 and 5-0-25-2 against New Zealand and Bangladesh respectively. So, he can be expected to light up the tournament as well.
KL Rahul
He has always been touted to be one of the best all-format batsmen in the country. Although he has been a regular name in India's Test and T20I teams, he hasn't been able to cement his place in the ODI team yet. However, that might just change during the World Cup as he has made a fantastic start to the campaign with a fabulous century under pressure in the warm-up game against Bangladesh. He would be eager to carry this momentum forward to the tournament and thus make his maiden World Cup outing memorable.
Hardik Pandya
India's long search for a proper seam bowling all-rounder ended when they found Hardik Pandya in 2016. Since then, he has been a very important piece in India's jigsaw. He is coming into this tournament on the back of an excellent Indian T20 League campaign with Mumbai, during which he scored 402 runs at an average of 44.66 and also claimed 14 wickets in addition to that. He will most likely bat at No. 7 for India and can even get promoted sometimes depending on the match situation. His role with the ball will be equally important as they would expect him to deliver his full quota of overs more often than not.
Kuldeep Yadav
Since Kuldeep Yadav's debut, no other bowler in ODI cricket has taken more wickets than him. His 87 wickets have come in only 44 ODIs at a scintillating average and strike-rate of 21.74 and 26.4 respectively. He is considered to be one of the best spinners in the world at the moment. Batsmen find his googlies pretty hard to read and that leads to their downfall on most occasions. With the tracks in England favouring batsmen mostly, Kuldeep's wrist-spin will play a big role in getting wickets for India.
Kedar Jadhav
This is also the first World Cup for the 34-year old Kedar Jadhav and it might well be his last as well considering his age. So, he would want to make the tournament a memorable one for himself, the team and his fans. He will have a vital role to play with the bat as he is going to be India's dependable No. 6 batsman. Jadhav is a technically strong batsman who can play the power-game as well. A batting average of 43.48 and strike-rate of 102.53 tells a lot about his ability of blending consistency with explosiveness. Moreover, his bowling has been a newly found weapon for India. He causes a lot of trouble to the batsmen with his bowling action which resembles the slower version of Lasith Malinga's. His tally of 27 wickets at an average of 34.70 proves how effective he is as a bowler as well.
Written by: Prasenjit Dey