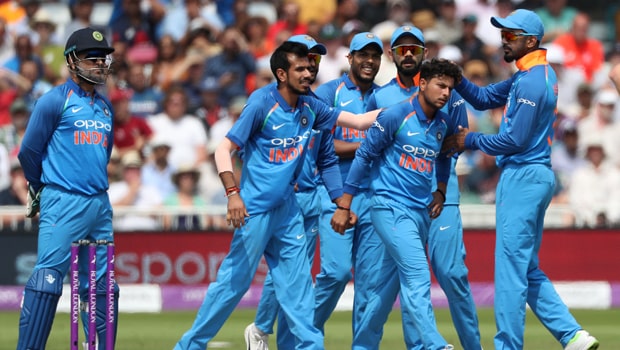 With the tracks in England heavily skewed in favour of batsmen, bowlers are expected to have a pretty hard time while containing runs during the World Cup. So, it becomes pretty important for teams to have bowlers who are capable of picking up wickets at regular intervals to curb the run-flow. That's why most teams have opted to go with at least one wrist spinner in their squad as this particular breed of bowlers has a natural wicket-taking ability.
India, however, are blessed to have two such quality spinners in Kuldeep Yadav and Yuzvendra Chahal. They have proven themselves to be match-winners ever since their arrival to the international scene a couple of years back. In fact, no other bowler has taken more wickets than Kuldeep and Chahal since Champions Trophy 2017. While Kuldeep has taken 87 wickets in 44 ODIs at an average of 21.74, Chahal is the second on the list having claimed 66 wickets in 38 matches at an average of 25.68 during this period.
Moreover, if their performances in wins and losses are considered, it would reveal how crucial their performances are in determining the fate of a match for India. In matches won by India, Kuldeep averages 18.58 and has a mean economy rate of 4.54. However, his figures — average shoots up to 34.05 and economy rate to 5.96 — change drastically in matches that India lost. Chahal, on the other hand, has an even better record in matches won by India with an average of 19.16 and an economy rate of 4.48. However, his record in losses is pretty dismal as summed up by an average and economy of 106.25 and 6.42 respectively. Yet, India's win percentages of 66 and 75 percent in Kuldeep and Chahal's presence sum up their impact on the team.
India is also a force to reckon with when both of these spinners play together. They have played in 28 ODIs so far and have won 19 of them, which sums up to a win percentage of 67.8. As a pair, they have picked up a total of 103 wickets in these matches at an average of 23.50 and a good economy rate of 5.00.
However, there is a little concern regarding Kuldeep's form coming into this tournament. He struggled to take wickets in the Indian T20 League this year and leaked runs at the same time as well. His statistics of 4 wickets in 9 matches at an average of 71.50 and economy of 8.66 during this edition of the Indian T20 League isn't inspiring at all. However, he would be looking to start afresh and shrug the disappointment off his shoulders. The wrist spinner can own the World Cup along with Chahal if he finds his mojo back again, and no team would be able to stop India from progressing to the final stages of the tournament.
Written by: Prasenjit Dey