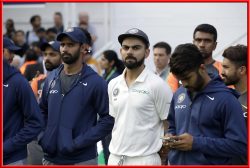 Thus it ended, on the fifth day of the fifth Test, the scoreboard finally confirming the value of India's performance in England. Verdict 4-1, favoring England but it did reflect the true competitive spirit of Virat Kohlli's team.
Through the series, Mohammed Shami, Ishant Sharma and Jasprit Bumrah all backed up by Hardik Paday had England in their loop. The other aspect that scoreline and scoreboard do not give an accurate picture of England had an opener who had no clue if he was going or coming. Keaton Jennings, too did not find his quality touch with the bat till he announced his retirement. Then the others who were batting outside their preferred positions, all-rounders who had to step away in the middle of the series to face court charges, the leg-spinner who had not played  four-day cricket and did not bat nor bowl in one of the Tests. Then there was the case of the off-spinner who was called in after he scored a first-class double century!
India had all the opportunities to beat England with all the above and more misgivings, which leaves one to imagine if this was not an English team that could be beaten then it's hard to imagine what is.
India for one got their selection wrong, lack of support during the early stages of the series was costly, if not fatal. R Ashwin who began the tour with full of promise fell away as time went by. The only word that was kept by the team came from Shastri who had said his team were not in England to draw matches.