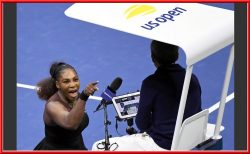 Billie Jean King the former world number one softened her view against the controversy over Serena Williams, for being "totally out of line" after she had disputed the chair umpire Carlos Ramos in Saturdays' U.S Open final.
King however later said that Ramos could have prevented the altercation had the communication been better while giving Williams a 'Soft warning' instead of a code violation after he saw her coach Patcick Mouratoglou signaling during the match.
Williams was first issued a warning, point and later the game penalty after arguments erupted between her and Ramos during the final, which Japan's Naomi Osaka won 6-2 6-4.
"Serena was out of line. There's no question, "King told CNN on Tuesday. " No one is saying she was a good sport. If they are they are crazy.
"She was totally out of line. She knows it."
These comments were a climb down from her statements to the Washington Post editorial.
She also stated the Williams was not aware of the first violation and later having another point taken for smashing her racquet.
This had caused Williams to call Ramos a "thief", leading to a third violation for verbal abuse further getting her a game penalty, this King said could have been prevented.
"The point is he (aggravated) the situation. 'I'm not attacking your character,' is the most important thing he could have said," King told CNN.
"I think everything would have been different."
Saying she was hopeful that this incident would bring about the needed changes for the sport, Allowing for a direct communication between the umpire and fans over a loudspeaker as also ending coaching during Grand slam matches.
"Crisis creates an opportunity to get it right," she said.