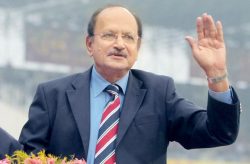 New Delhi: Sachin Tendulkar has said that the former captain of India Ajit Wadekar had a profound influence on him. Wadekar, who won India's victory in 1971 and West Indies, died in Mumbai at the age of 77 after a prolonged illness.
Tendulkar wrote on Twitter, "Deeply saddened to hear about the demise of Ajit Wadekar Sir. He was someone who was instrumental in bringing out the best in us during the 90s. We'll always be grateful for his advice and guidance. Praying for strength for his family during this difficult time. ? RIP As  Manager Wadekar played an important role in molding Tendulkar as an opener.
During Wadekar's tenure Azhar's career got new life between 1993 and 1996. Earlier, losing the series in New Zealand, England and Australia, he was struggling with a bad phase. Azhar tweeted, " Ajit Wadekar sir .. such an iconic person. Deeply saddened by his demise!! Sir was a father figure for me… May his soul rest in peace! My Heartfelt Condolences to the family..
Kumble who was out of the team after the 1990 tour of England, His return was on a 1992-93 tour of South Africa, when Wadekar became manager. He was never dropped from any match till his retirement in 2008. Kumble wrote, "I am very sad due to the demise of Ajit Wadekar. He was more than a coach for the entire team. Like a father and a smart strategist. My condolences to his family.
Sanjay Manjrekar said, "Ajit Wadekar has a profound influence on Indian cricket. His contemporaries used to worship him. He had such a personality. As coach, he was quite tough. May God give peace to his soul".