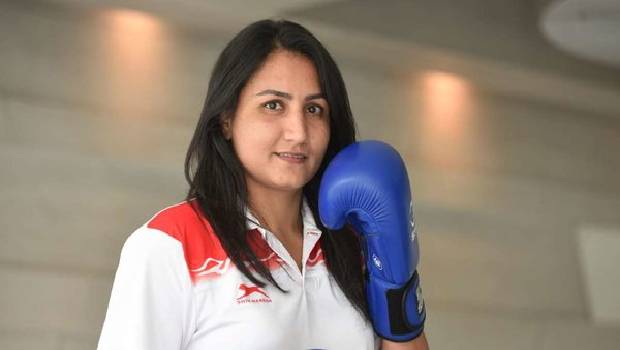 The Indian middleweight boxer Pooja Rani Bohra recently said that only if you get or step out of your comfort zone, there can be growth, change, and transform to the best. Pooja Rani started her boxing career late, as she was not very keen on sports during her teenage years. It took nearly 18 years for Pooja Rani to find her interest in the sport, which demands both physical and mental strength.
Pooja Rani had a huge love to participate in the Olympics and be an Olympian from India but she failed to qualify for the 2012 and 2016 games. Pooja Rani failed to qualify for the Rio Olympics as she lost at the second round of the Women's World Boxing Championship in May 2016. The 30-year-old boxer finally has an entry into the Tokyo Olympics after winning a bronze medal at the 2020 Asia and become the first Indian to qualify for the 2020 Summer Olympics.
It has taken years for Pooja to be in the boxing ring at the Olympics, but a decade of experience will help to prove her as the best in the major event. It will not be a great surprise if she wins a medal in the Olympics as she has already won many medals with her rock-solid fast punches in the boxing ring. Despite the late entry into the sport, the boxing cradle Pooja has amazed everyone with her achievements.
Pooja Rani said that her boxing career started in 2009 at an inter-college tournament, where she won a silver medal. The younger boxers in the ring inspired her much so that she started to take the sport very seriously. Pooja added Akhil Kumar is a great inspiration and his 'Open Guard' style always has a good impression on her.
Akhil Kumar won the gold at the 2006 Commonwealth Games but failed to win a medal in the 2008 Olympics when he lost in the quarter-final. But India clinched a maiden bronze medal in boxing as Vijender Singh qualified for the semi-final.
Pooja says a unique technique based on personal strengths is the best way to win. She had won the gold medal in the 2016 South Asian Games. Pooja represented India at the 2014 Glasgow Commonwealth Games. Pooja's main challengers in the Tokyo Olympics will be Li Qian of China, Nouchka Fontijn of the Netherlands, Britain's Lauren Price, and Australia's Caitlin Parker. All these boxers are consistent performers, winning medals at the world levels.