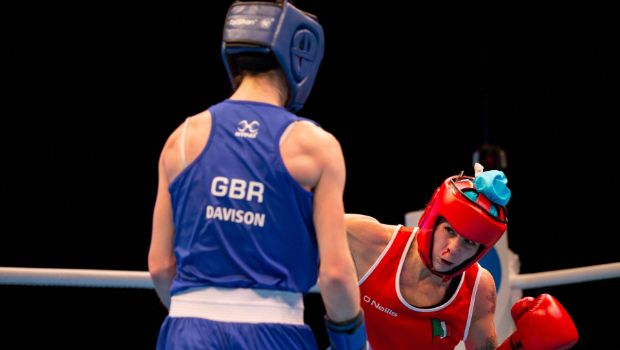 Asian Championships bronze medalist Nikhat Zareen (52kg) secured India's first medal at the IBA Women's World Boxing Championships in Istanbul after advancing to the semifinals. Nikhat Zareen delivered her best to dominate from the start and reached the last four with an impressive win. Indian boxer out-punched England's Charley-Sian Davison 5-0 to continue with her stellar run. Earlier this year, Zareen won the gold medal at the prestigious Strandja Memorial tournament.
Indian boxer Zareen was all pumped up in her highly physical bout against Davison. Both boxers went attacking ferociously against each other in the first round. But, the second round was a one-way ride as Zareen continued to hit heavily and repeatedly her opponent with terrific body shots to tire her out. The 25-year-old Indian boxer also landed clean and sharp punches on Davison.
With another two rounds on the slot, Zareen played on to display her defensive skills. She felt that there is no need to be on the offensive in the final few minutes of her quarterfinal bout.
After securing a superb win, Zareen said that her opponent was taller than her, so the Indian's strategy was to block her right hand which was her strength. Zareen admitted that she is much delighted to give India the first medal. The Young boxer hopes to give her best and win the first gold for her nation.
Zareen stated that she had analyzed her performances and worked on the things which she was lacking. She has improved her game, both physically and mentally. Zareen ended up that she is more of a technical boxer now.
The former junior world champion will be up against Caroline De Almeida of Brazil in the semifinal clash. Almeida hammered the 2018 Commonwealth Games silver medalist Carly McNaul by unanimous decision.
The other two Indian boxers who continued their excellent run at the World Boxing Championships are Manisha (57kg) and Parveen (63kg). Both sealed their spot in the semifinals of their respective events after securing thrilling victories.
Manisha dispatched Namuun Monkhor of Mongolia in a hard-fought quarterfinal by a 4-1 split decision. On the other hand, Young Parveen got the better of Tajikistan's Shira Zulkaynarova with an identical margin.
However, it was not a fine day for Nitu (48kg), who ended her campaign with a 2-3 split verdict quarterfinal loss to reigning Asian champion Alua Balkibekova of Kazakhstan. The 21-year-old boxer started the bout cautiously, tempting her opponent to come at her but ended up struggling to land and punches herself.