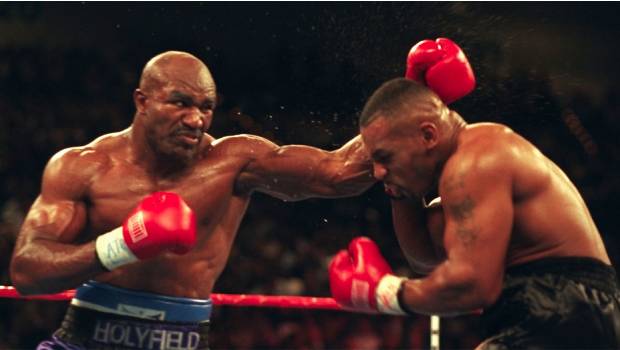 Evander Holyfield and Mike Tyson, the famous rivals, might be back at rings soon, to raise funds for the charity, and the venue and date, will be known soon. The celebrity boxers had been updating their Instagram social media page about training for an event, though Holyfield had directly stated that he is up preparing to get back in the ring to help raise funds. Evander Holyfield, 57 years old, said that he is ready to face, Mike Tyson who is 53 years old in the trilogy fight series but with one condition that Tyson should fix the bout.
Histories about these boxing legends said that there have, been conspiracies between the boxers, recently Tyson had asked to the ring by the New Zealand Rugby star Sonny Bill Williams to fight for three million dollars for the COVID-19 efforts. But the Iron Mike had turned down the offer as it did not involve boxing techniques, meanwhile Evander Holyfield, apart from fighting Tyson, had shown interest in fighting the boxer, Riddick Bowe, another old rival of the Holyfield boxer in the ring. Tyson's and Holyfield's Instagram videos had led the audience to expect the boxers to meet in the rings, but no information had received about the heavyweight champions meeting in the rings. Mike Tyson and Evander Holyfield had faced each other, before in the ring twice, where once Holyfield had won the battle and in the second time Tyson bit a good chunk of Holyfield's ear flesh which led Tyson to disqualify from the match.
This would be a 3rd fight if the heavyweight legends decided to meet in the ring, initially, Tyson began posting his training videos telling fans about his return, soon Holyfield followed the same and ended the video with the similar meaning as the legends were back. Holyfield, to the interviewers of BBC, said if he had asked Tyson to ring, it would mean like bullying and also to avoid the comments like Holyfield could beat Tyson, so the boxer is asking to ring with him. Holyfield, simply stated that he would hit if Tyson hit him, and as far as being fit to box and boxed by the rules Holyfield has no problem in facing Tyson in the ring said the boxer. Tyson retired in 2005 from boxing but, Holyfield left 9 years later.