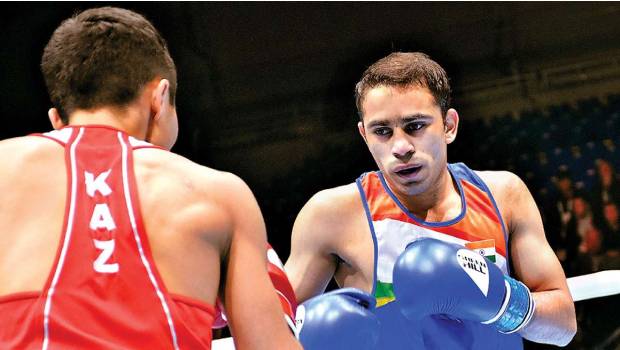 The Boxing Federation of India (BFI) is on the groundwork to start the national training camp for Olympic Games in the near future. At the present moment, BFI is waiting on the sanction of a requisite submitted to get approved. Once they get the approval BFI will resume the national training camp at Patiala. The national boxers will take part in the training to prepare for next year's Olympic event scheduled to take place in Japan. The federation is very confident of getting approval within the next couple of days. A top official said to PTI about the paperwork getting almost done and currently, they are working on the progress of the logistics.
Nine boxers have qualified for the Olympic Games to represent India and they are Amit Panghal (52kg), M C May Kom (51kg), Manish Kaushik (63kg), Lovlina Borgohain (69kg), Vikas Krishan (69kg), Ashish Kumar (75kg), Pooja Rani (75kg), Satish Kumar (+91kg) and Simranjit Kaur (60kg). The qualified boxers are expected to assemble in Patiala by the first week of July.
The BFI official said the training will be a joint camp for both men and women players. The capital of the nation has been the base for these training camps since the year 2017. Once the boxers assemble at the camp, they will be following quarantine during which they will undergo regular testing for COVID-19. After BFI receives the player's results for the tests it would resume the training camp.
The boxing players have been continuing their training in their respective homes since the lockdown that came into active brought every sporting event to an indefinite period of halt. As per rules, the boxers were advised to not practice in any of their usual boxing rings and to use only their equipment for the training at home. This rule was brought into action to keep them away from the threat of the virus.
BFI is positive about conducting national events in the usual timeline of October-November. The federation has also secured the rights to host the Asian Championships event which is planned to take place in December of this year. Earlier this month the BFI wanted to commence the training camp on June 10 but because of administrative delay to secure permissions for the training from the government was eventually postponed.