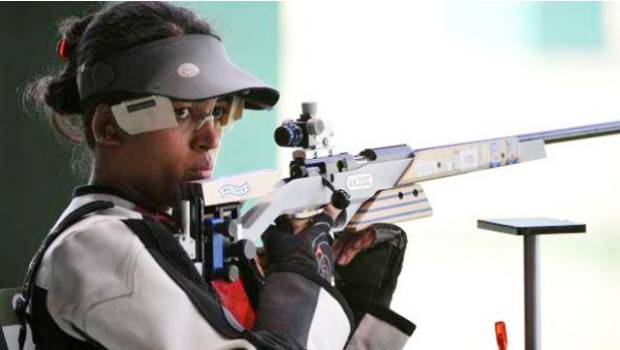 Last year, International Shooting Sport Federation had announced that the National Rifle Association of India will host the ISSF World Cup event with scheduled dates in New Delhi, India. The World Cup event in India will begin from 15th March with the arrival of delegations, then on 21st March, a pre-event training had scheduled, and the event closes on 26th March 2020.
NRAI ensures that shooters are both mentally and physically fit for all the vital events when the names are nominated. India is sending 15 qualified shooters for the 2020 Tokyo Olympic, and 7 women shooters are aiming the medals. Tejaswini Sawant, Anjum Moudgil, Apurvi Chandela, Rahi Sarnobat, Chinki Yadav, and Manu Bhaker are the markswomen listed for the Tokyo Games tow.
Manu Bhaker, who is to appear for ISSF World Cup India, spared time to share a few moments about the Olympic preparations. Bhaker began the Olympic journey since 2018, with a haul of gold medals and stood as the nation's pride. The 18 years old, under 10-meter air pistol in 2018, the shooter earned gold at Commonwealth Games and won Asian Shooting Championship 2019, as an individual, and in the mixed team in 2019, Bhaker won at ISSF Munich World Cup, 2018 Guadalajara World Cup, and many more.
Manu Bhaker's vital technique to tow the 2020 Olympic medal is to practice the proximity of the target, and a steady mental state towards the big summer 2020 event. Being the maiden Olympics, Manu Bhaker wants to experience the event fresh so the woman shooter avoids hearing information about the event from the others. Manu Bhaker the expert in 10-meter air pistol also took a shot in the 25-meter air pistol at the 2019 World Cup event, but in a difference, the shooter lost the place.
The emotional balance is a keen focus of Bhaker's, and the shooter said music greatly helps the process. Further, Bhaker likes to read, meditate, write journals, and these assist by keeping away the pressure and opens the shooter's mind to achieve a better target score during the training session.
The president of the National Rifle Association of India, Raninder Singh said, team India from the Olympic Games Test Event Rifle/Pistol/Shotgun targeted on April 2020 in Japan, might drop without a doubt in the future if COVID-19 continues taking a toll until before the Olympic.