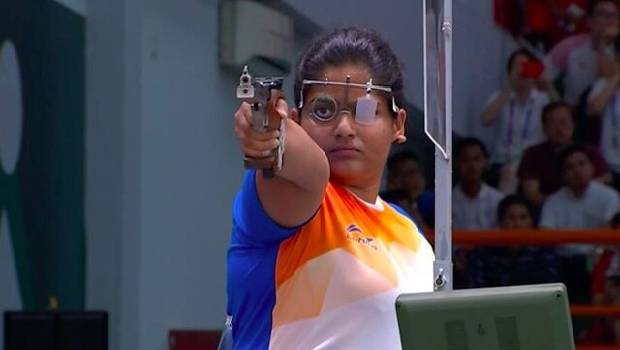 Rahi Jeevan Sarnobat the Indian sharp woman had raised a strong view that the Indian shooters are attracting international space in recent times. Sarnobat hails from Kolhapur, Maharashtra and the remarkable woman had been the first Indian to stage a gold medal in the 2008 Commonwealth Games at Pune in 25 meters pistol shooting.
Through the words shared by the Rahi Sarnobat in the discussion, the shooter's aim towards Tokyo Olympic expressed a firm sports-women-ship. Sarnobat's journey to the 2020 Olympics had been intense and firm since 2017. To begin with, the female shooter felt inspired by the World Champion rifle shooter Tejaswini Sawant.
The female shooter had been training for the Tokyo Olympics since the year 2017 with a Mongolian-German coach Munkhbayar Dorjsuren. As a result, in the 25 meters pistol shooting at the 2018 Asian Games Jakarta, Sarnobat earned gold for the nation. A schedule by NRAI for the women's shotgun, rifle, and pistol shooting in the National Championship in 2019 Sarnobat scored 589 points and confirmed the Olympic quota during the schedule.
When sat with Sarnobat, the shooter said that 2018 had been the practice of techniques and 2019 was the application of the learnings. Despite the turn of events in life and with the NRAI incorporating stern steps in grooming the Indian shooters Rahi Sarnobat paid no heed to the distraction and gripped the Tokyo Olympic 2020 tight.
Sarnobat felt with the preparations of the 2012 London Olympics the shooter had rushed and missed the Rio Olympics in 2016 due to the injury. In this year's quadrangular event the Indian shooter specifically said that without any doubt since 2017 Sarnobat aimed for the 2020 Olympics. Further, Sarnobat added that Indian shooters are now being watched since the year 2019 because, Indian shooter plays a huge competition against shooters from pro countries like South Korea, China, and Japan.
Currently, the female shooter is training in the Inspire Institute of Sports at Toranagallu, Karnataka with other shooters. Rahi Jeevan Sarnobat said about the next generation of shooters when Sarnobat was a junior the shooter would seek seniors for guidance but now the young shooters are quite confident in the techniques. As a last note, through reading, Rahi Sarnobet said if not the shooter another will earn gold and top nation's name so one should force pressure on themselves.