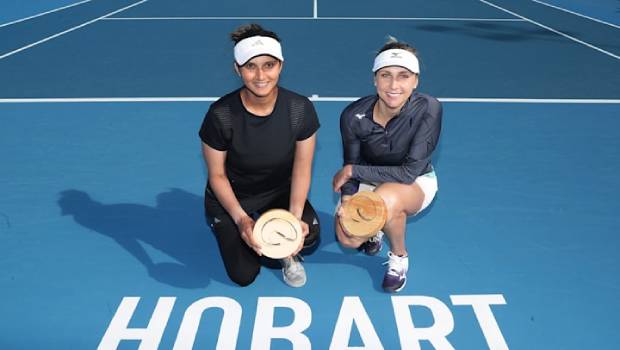 Indian tennis star player Sania Mirza pairs up with the Olympic debutant Ankita Raina to represent India in the women's doubles. This pair could be one of India's medal hopes in the Tokyo event. India's hope for a tennis medal in the imminent Tokyo Olympics is exceptionally high on the pair of Sania Mirza and Ankita Raina in the Women's doubles category.
The Indian duo has to play out strong and extraordinary to return with a medal since the field in the Olympics is very tough with the USA, Spain, France, and Britain having strong women's doubles teams. The two Indian players have paired and played together only once, which was in the Billie Jean King Cup campaign.
It was India's first World Group play-offs of the Billie Jean King Cup, earlier known as the Fed Cup. Both played well and showed good team effort to put an outstanding record (5-0) in the competition. The Indian team qualified for the playoffs, as they finished second in Group I. Sania Mirza was unbeaten through the campaign and became the first Indian Tennis player to win the Fed Cup Heart Award.
Both Sania Mirza and Ankita Raina played in the 2021 Wimbledon Championship but with separate partners in their categories. They started practicing together for the Tokyo Olympics after Wimbledon ended.
Six-time Grand Slam champion Sania Mirza will become the first and only female athlete to represent India at the four Olympics. Sania's first Olympic game did not go well as she retired in the Singles first-round due to a wrist injury.
Former World No.1 Sania made the Olympics entry with her protected ranking of No.9. The game rule says that one can play the doubles with a partner who ranks within the top 300. The 28-year-old Indian youngster Ankita Raina ranks 95 in doubles and 183 in singles. Thus both paired up as a team in Women's Doubles for India.
India has only one bronze medal in tennis which came way back in the 1996 Olympics when Leander Paes won for the country in the singles event. The mixed doubles pair of Sania Mirza and Rohan Boppana came very close in winning the second tennis medal at the Rio Olympics. But faced a sudden fall in the semifinals and went on to lose the match, as well as the bronze medal. The whole Nation expects Sania Mirza and Ankita Raina to bring home a medal after a long wait of twenty-five years.