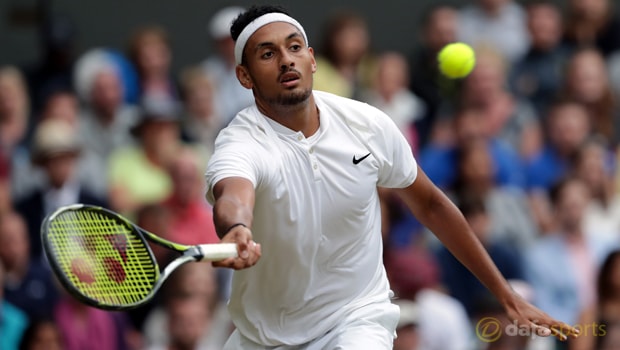 Roger Federer does not believe Nick Kyrgios is ready to claim his maiden Grand Slam title just yet.
The Swiss, a veteran of 17 major titles himself, labels the 21-year-old as 'hard to beat' at the season-opening Grand Slam in Melbourne but he insists Kyrgios will find it hard to string together the performances required to down a succession of top-ranked players and actually win the tournament outright.
Federer contrasts Kyrgios to former world number one Lleyton Hewitt, who never managed to achieve the ultimate glory in his homeland.
"For me to start talking about him winning the tournament, Lleyton never did it, and he was two times world number one at the end of the year," Federer told Fairfax Media.
"So I know [Kyrgios] has got a big game, but he has to beat four, five amazing players. Can he do that right now? I'm not sure.
He can beat them, but not back to back to back to back to back, maybe. But I'm happy if he proves me wrong." Federer admits that Kyrgios is a hot topic for discussion due to the enormous talent he possesses.
The Aussie heads into Melbourne on a career-high ranking of 13th in world and has now achieved three tour wins.
He will be carrying hopes of at least matching his 2015 Australian Open quarter-final appearance.
Asked if he had advice for Kyrgios at this stage in his career, Federer said it was important that he uses these early years on tour to discover the best facets of his game for the future.
"I know everybody gets asked about him, and it's natural because he's a great player, but I think at the one point he also gets a bit like 'OK, it's enough already, I feel like I need to make my experiences myself, good or bad I need to figure it out', and I think that's the process that he is right now," Federer added.
Kyrgios is 41.00 to win the Australian Open while Federer is 19.00 to win for the fifth time in Melbourne.