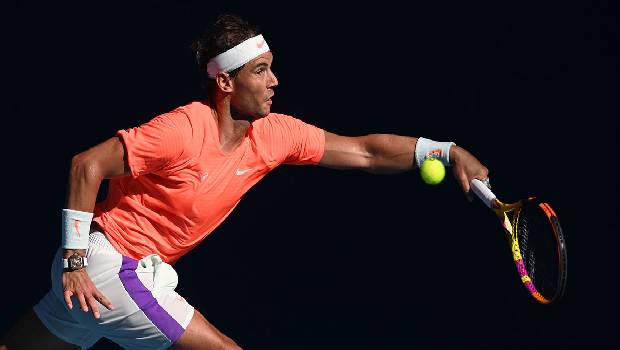 The first Grand Slam of the year, the Australian Open tennis tournament, is taking place in Melbourne. World No. 2 Rafael Nadal of Spain, who won 20 Grand Slam titles in the first round of the men's singles on Sunday, defeated Serbia's Laszlo Jere 6-3, 6-4, 6-1 in the second round to advance to the second round.
"I'm happy to be through to the second round. I think I did a good job today," Nadal said in his on-court interview. "Straight sets, that's what I needed." "It's been a tough 15 days for me because I had some issues with the back. I needed to survive today, and that's what I did. I just tried to be focused all the time, tried to get through."
In another match, No. 4 seed Daniel Medvedev of Russia chased down No. 63 seed Vasek Bospisil of Canada 6-2, 6-2, 6-4 to record his 15th consecutive victory.
India's Sumit Nagal, ranked 144th in the world in singles, lost 2-6, 5-7, 3-6 to 73rd seed Ricardos Bornkis of Lithuania. Nagal's challenge was over powered by Berankis' powerful groundstrokes proved to be too good for the Indian, who lost 2-6, 5-7, 3-6. Nagal reeled off four straight games in the second set in his bid to stage a comeback but the initial dominance by Berankis made the Indian's efforts go in vain.
Other matches were won by Perettini (Italy), Andrei Rublev (Russia), Tsitsipas (Greece), Alex de Minar (Australia), Fabio Bocchini (Italy), Kachanov (Russia), and Borna Goric (Croatia).
During first round of the women's singles, defending champion and No. 4 seed Sofia Kenin (USA) defeated Madison England of Australia 7-5, 6-4 in the second round to advance to the second round. Similarly, 'Number One Storm' Ashley Party (Australia) defeated No. 82 Tonga Kovinic (Montenegro) 6-0, 6-0 in Nerset. It only took him 44 minutes to get this win. Meanwhile, two-time champion Victoria Azarenka (Belarus) suffered a shock 5-7, 4-6 defeat to Jessica Bekula of the
United States. Azarenka was treated on the ground for respiratory problems during the match. Similarly, England's Johanna Konda withdrew in half due to injury.
Other matches include Svitolina (Ukraine), Corbin Muguruza (Spain), Coco Cop (USA), Samantha Stosur (Australia), Belinda Bencic (Switzerland), Carolina Bliskova (Czech Republic), Kondavit (Estonia), Elise Mertens (Bel) (USA), Carolina Muchova (Czech Republic) successfully crossed their first hurdle.