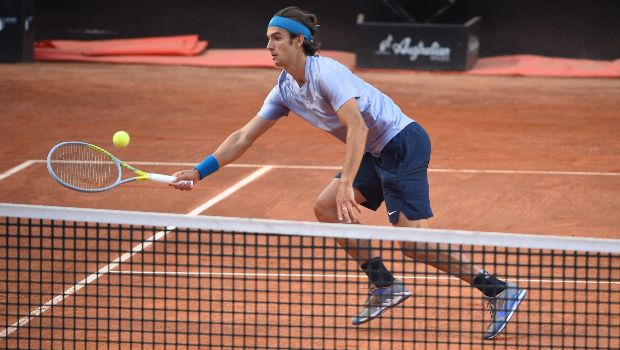 Lorenzo Musetti held his nerve to win the battle after letting slip five championship points. The Italian saw five match points come and go in the second set before eventually stunning the top seed Carlos Alcaraz 6-4, 6-7 (6/8), 6-4 in the men's singles final of the Hamburg European Open. The 20-year-old Musetti, who had not advanced to a tour-level final, showed excellent mental resilience against the Spaniard to triumph after battling for two hours and 47 minutes.
The 19-year-old Alcaraz will become the youngest player to break into the world's top five of the ATP rankings Since Rafael Nadal in 2005 after reaching the Hamburg Open final. The Spanish teenager, who was eying to improve his 5-0 record in finals, missed out on his sixth ATP title and lost a final for the first time.
Alcaraz looked to be heading for a straight-set defeat, but fought back from 4-3 down in the second set and saved five match points to force a decider set in the Hamburg final. Musetti, world no.62 missed another three match points in the tie-break. But the Italian did not fold and finally got over the line at the sixth time asking.
From the start, Musetti made it clear that he was going to throw all his skill at the Spaniard. The Italian played aggressively from the baseline, moved into the net, and kept the five-time ATP Tour winner off balance with plenty of variety in spin and pace. Alcaraz was not at his best in the championship clash and made a few uncharacteristic errors. Alcaraz was unable to find the rhythm as his opponent kept him guessing.
Despite the disappointment of watching his golden opportunity slip away in the second set, Musetti did remarkably well to recover in the decider set. He maintained his level and pushed Alcaraz hard in the decider to lift the trophy. The Italian youngster fell to the clay after Alcaraz missed a final shot long. Musetti will climb to a career-high World No. 31 on Monday after winning his maiden ATP title.
Musetti prevented Alcaraz from becoming the third man in the Open Era to win his first six tour-level finals. After securing the title, Musetti said that he has no words to express as the match was a roller-coaster till the end. The Italian admitted he had so many match points but Alcaraz was so good on the match points.