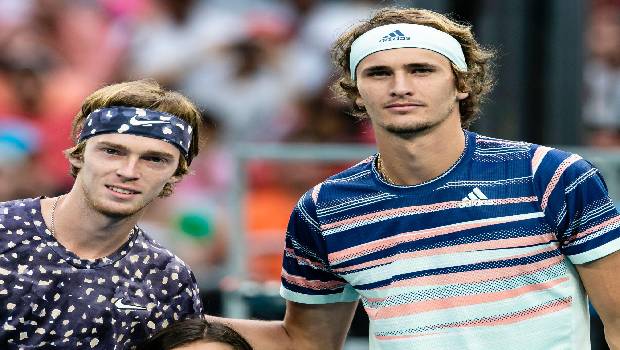 Andrey Rublev and Alexander Zverev clinched a comprehensive win for Team Europe on Sunday after defeating Team World's Reilly Opelka and Denis Shapovalov 6-2, 6-7(4), 10-3 in Boston. Team Europe secured a 14-1 victory to lift the 2021 Laver Cup. Team Europe has won the title for a fourth consecutive time. Captain of team Europe Bjorn Borg has won all four editions of the Laver Cup – in Prague, Chicago, Geneva, and Boston.
Team Europe entered the final day of the tournament needing just one win from any of the four scheduled matches to clinch the title. Team Europe players wasted no time as they sealed the opening Men's doubles game for an unconquerable 14-1 lead.
Team World needed to win all four matches on the final day to secure the trophy, but Opelka and Shapovalov were unable to complete the job after winning the second set. Team World had early troubles when the big-serving Opelka was broken in the opening game. Shapovalov rolled in a double fault and surrendered the double break two games later. It was clear the North American players needed to gel quickly to have the momentum, but they failed to do so.
The home crowd roared when Opelka finally conjured the hold to get Team World on the front. The men in red had the first breakpoint after Rublev played a high backhand volley. Opelka fended off three straight break points at 2-all in the second set before the pair combined to end for a 4-3 hold. Opelka and Shapovalov lifted the momentum with a dominant second-set tiebreak. But the Russian Rublev raised his game and brought up six championship points on a sharp volley. He closed it out on the first to complete the convincing triumph.
Team Europe won eight of the first nine matches in the three-day event. The only match they dropped this weekend was in a doubles match, when John Isner and Shapovalov were victorious. Team Europe had won the first three Laver Cups in 2017, 2018, and 2019, each time with Federer and either Nadal or Djokovic. But this time team Europe has won the Laver cup without any one of the three participating.
After lifting the trophy, Andrey Rublev said that the Laver Cup victory was a special moment in his career. He added that this win is going to stay forever with him. Earlier, Rublev won an Olympic gold medal in mixed doubles alongside Anastasia Pavlyuchenkova at Tokyo.