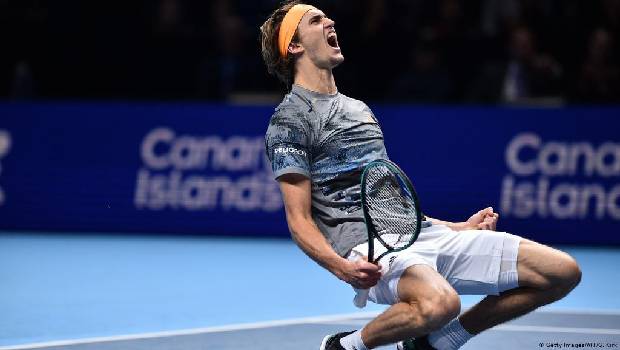 Alexander Zverev eased past Andrey Rublev in straight sets 6-2, 6-3 to win the championship match. Olympic Champion Zverev completed his dominant week by lifting the ATP Masters 1000 title for the fifth time. Alexander Zverev became the first Cincinnati champion from Germany since Boris Becker in 1985.
The top-seed had never won a match in six previous appearances at the tournament but produced quality tennis to capture his fourth tour-level trophy of the season. The German took just 59 minutes to beat his rival.
Zverev stretched his ATP Head to Head wins to 5-0 against Rublev. The third seed was aggressive throughout the game. He fired six aces and won 93 percent of the points behind his serves to a record victory in the finals.
The World no 5 player Zverev produced an early break over the Russian and continued the momentum to built an impressive 3-0 advantage in just 11 minutes. Andrey Rublev applied pressure by earning his first game at 4-1, but Zverev continued to play exceptional tennis and denied the Russian any chance of recovery.
Olympic gold medalist Zverev dominated the play with consistency and sealed a 6-2 first set triumph. He hit four aces, seven winners, two unforced errors, and won 85 percent (17/20) of his service points.
Zverev made an early break over his opponent in the second set and went up leading by a game. The 24-year-old German took complete control of the match with his dominating serves and finished with a solid 6-3 win to capture the Cincinnati crown.
Zverev never dropped his level throughout the game. Overall, he hit six aces, 16 winners, recorded six unforced errors, and won 93 percent (26/28) of his first-serve points over the Russian.
Rublev fired 11 aces, 18 winners, 19 unforced errors, and won 67 percent of his first-serve points. En routing to his maiden ATP Masters 1000 final, Rublev's dream of winning the title was shattered. Earlier, Rublev defeated his fellowman Daniil Medvedev for the first time.
The Acapulco Open champion showcased incredible form, despite the physical issues he struggled during the semi-final encounter against Stefanos Tsitsipas. Earlier this year, the German had captured the Mutua Madrid Open title in May to end a three-year Masters 1000 title drought. He also won the trophy in Acapulco Open in March.
Alexander Zverev is now tied in ninth position for winning the most Masters 1000 titles. Zverev is the first player to win the Cincinnati Masters crown and the Olympic singles gold medal in the same year since Andre Agassi in 1996.