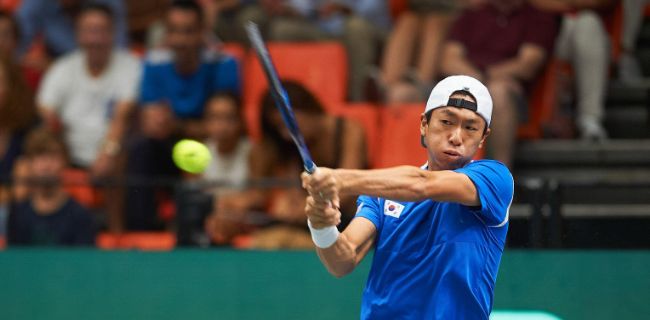 It was a sensational day of Tennis on Sunday in Seoul, South Korea tore apart Belgium's 2-0 lead to secure a famous Davis Cup victory. The hosts produced an excellent performance to clinch the 2023 Davis Cup qualifiers, winning the doubles and both the singles matches. It is the first time the nation has overturned such a deficit in the history of the prestigious team event.
World no.237 Hong Seong-chan was the hero of the day as he showcased his skills to beat Belgium's Zizou Bergs 6-3, 7-6(4) in the deciding fifth rubber. Hong who is 122 places below the Belgian in the ATP rankings raced to a 5-0 lead in the second-set tiebreak. But the drama continued until the end as Bergs bounced back to make it 4-5. However, the Korean stood tall to keep his cool and held his nerves firm to clinch a crucial win for his country.
After sealing a famous win, Hong admitted that he always tried to show his strengths as much as he could and tried to frustrate his opponent. The 25-year-old player said that it worked well for him right from the start. Hong expressed that he was very nervous but he was also very excited. He thanked the home crowd for making an excellent atmosphere.
The decider was needed after Belgium's no.1 David Goffin failed to wrap up his singles tie against Kwon Soonwoo. The 25-year-old Korean did great work to come from behind and secure a 3-6, 6-1, 6-3 win over Goffin to level the scores. Kwon served up 11 aces in the process. Kwon stated that it was not an easy game but he delivered his best to win the match. Kwon added that there were a lot of errors in the first set because he had too many thoughts. But from the second set, I tried to find composure and played well, concluded Kwon.
Earlier in the day, it was Nam Ji-Sung and Song Ming-Kyu who got South Korea onto the scorecard by defeating Belgium's Sander Gille and Joran Vliegen. The Korean duo threw everything at their doubles opponents and put them under pressure from the beginning. The Koreans dominated the match with big serves and prevailed 7-6(3), 7-6(5).
South Korean captain Seung-Kyu Park said he is so grateful and proud of the players for not giving up and doing their best until the end. Park concluded that it is like a dream to advance to the finals for two consecutive years.