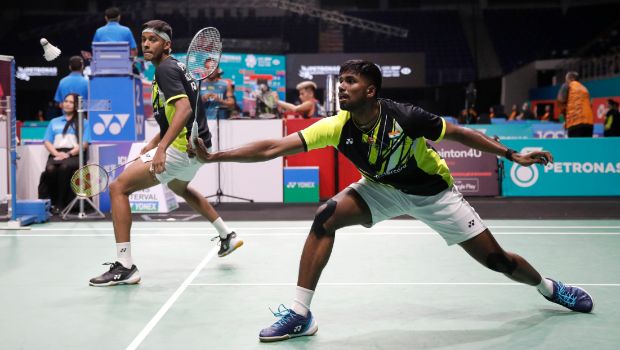 The star Indian badminton duo of Satwiksairaj Rankireddy and Chirag Shetty scripted history by winning the men's doubles title at the Indonesia Open on Sunday. Satwik and Chirag became the first doubles pair from India to claim the title in a BWF Super 1000 event. The Indian pair defeated reigning world champions Aaron Chia and Soh Wooi Yik of Malaysia in the summit clash of Indonesia Open 2023 on Sunday. Satwik and Chirag entered the grand finale as underdogs but did well to challenge all odds to clinch the title.
Satwik and Chirag impressed everyone with their brilliant performance in the final as they thrashed the Malaysian pair with a straight-set victory of 21-17, 21-18. The World No. 6 pair added another honor to their careers after winning a gold medal at the Birmingham Commonwealth Games and bronze at the world championships last year.
Satwik and Chirag gained initiative midway through the first game and they never really gave a sniff to their fancied opponents since then. In the second game as well, the Indian pair did not allow their opponents to break free and a four-point streak kept them ahead of the curve. The Indians seemed to be in for a facile victory when the Malaysians nullified four match points to come within sniffing distance of their opponents.
However, Satwiksairaj and Chirag, the world No. 6 pair, who won a gold medal at the Birmingham Commonwealth Games and bronze at the world championships last year, could not be denied when the score read 20-18 in their favor, and this time they converted the match point to script a magnificent win. For the first time in 11 attempts, the Indian pair defeated Chia and Yik.
In eight previous meetings, the top-seeded Indian duo had never been able to beat the world champions. They came close four times when they took on the Malaysians but each time Chia and Yik did that extra bit in their defense to beat the Indians. But this time the Indian pair stun their opponents in 43 minutes at the iconic Istora Senayan arena.
We had prepared very well for this event. We knew the crowd will be supporting us. They have supported us all week. This has been an amazing week for us. We played amazing badminton today. We didn't have a good head-to-head record against them, so wanted to play one point at a time and it fetched the result for us, said Satwiksairaj.