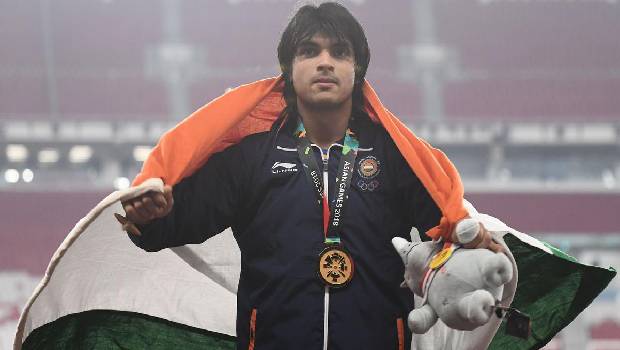 Neeraj Chopra, the Haryana hailed javelin player among the wrestling and kabaddi region holds 5th position in the IAAF ranking in the world. The javelin thrower was under the radar for a year from athletics, due to an elbow injury. In May 2019 the athlete underwent an arthroscopy surgery to remove small protruding bones from the elbow, which was holding the player back during throws by causing pain at the shoulder and elbow.
The javelin thrower was last seen in 2018 Jakarta at the Asian Games where Chopra won gold with 88.06m. During the year 2019 Chopra's participation for the National Championship got declined because the Athletic Federation of India said that Chopra should rest, and would participate at the beginning of next year.
As the contestants are being evaluated around the globe for the Tokyo Olympic Games, from July 24th – August 9th represented board members are to pick the best players. On January 29th, 2020 the javelin thrower Neeraj Chopra had attended the Athletic Centre North East meet at South Africa, Potchefstroom. Previously, Chopra had set a record of 88.06m at the 2018 Asian Games and the 2020 Olympic board had 85m or beyond to qualify.
Neeraj Chopra's initial javelin throws at South Africa ACNE meet landed as 81.76m, and in the second attempt, the distance was 82m. Before the final throw, Chopra landed the spear at a distance of 82.57m. The javelin athlete excelled by marking the second-best throw as 87.86m in the record books. Chopra shared in an interview that, the Olympic qualification pressure was off from his thought so Chopra focused on giving his best while throwing in the game and that's what helped to set the record, Chopra said.
Chopra further added about the warm-up sessions throws speared by him which had some flaws, so while aiming the original record he rectified and then he threw. Potchefstroom will be the current training place for the athlete to train for the 2020 Olympics. Chopra said he had missed numerous games in the past and so he would be participating in more games like Federation Cup and Diamond League.
Neeraj Chopra said that the past year was about rest to perform better in the future games, he thanked the guidance and support given by the quarters and said he would make his country proud.