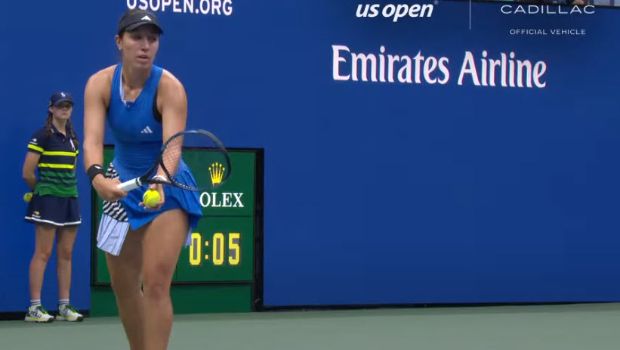 Home favorite Jessica Pegula was eliminated in the fourth round of the US Open. Pegula, the third seed, was defeated in straight sets by fellow American Madison Keys at Arthur Ashe Stadium. Keys, the 2017 US Open runner-up, stormed to a 6-1, 6-3 victory, leaving Pegula in tears as she exited the court. Despite her achievements on the WTA Tour, Pegula has never moved past the last eight of any major competition, despite reaching six Grand Slam quarter-finals since 2021. Keys will play in her first US Open quarter-final since reaching the semi-finals in 2018.
This year I just have been trying honestly not to have any expectations and just go out and play tennis and just focus on that, Keys said after claiming a spot in the last eight. I feel like when I'm doing really well, my goals are much more based around trying to get to the net more or working on adding slices into sets, or going more for my second serve, the 28-year-old American added. Things like that, where I have full control over those sorts of things instead of trying to have performance-based goals. So, my goals are a lot more trying to focus on what I'm trying to add to my game, Keys concluded.
Keys' victory means she will meet Wimbledon champion Marketa Vondrousova in the quarter-finals as the year's final Grand Slam draws to a conclusion. Vondrousova defeated Peyton Stearns to get to her maiden quarter-final at Flushing Meadows. American Stearns won the first set, but Vondrousova came back to force a tiebreak. The final set proved too much for the unseeded Stearns, who committed 21 unforced mistakes, allowing Vondrousova to seal the victory.
She was playing great from the beginning, and I just tried to stay in the game, Vondrousova said. I'm very happy. I actually didn't expect it after Wimbledon, it was a lot of pressure. We'll see what happens next, Vondrousova said.
Meanwhile, it was more heartbreak for the Tunisian Ons Jabeur as she was defeated 6-2, 6-3 by a superior Qinwen Zheng, who became the youngest Chinese player in the Open Era to reach a Grand Slam quarter-final. The 20-year-old Zheng will have a tough challenge in the quarter-finals as she faces the top-seed Aryna Sabalenka to earn a berth in the semifinal.
Earlier, Iga Swiatek's title defense came to an end in the fourth round as she was defeated by 2017 French Open champion Ostapenko 3-6, 6-3, 6-1. Swiatek's reign at the top of the WTA will come to an end next week, when current No.2 Aryna Sabalenka takes over for the first time.