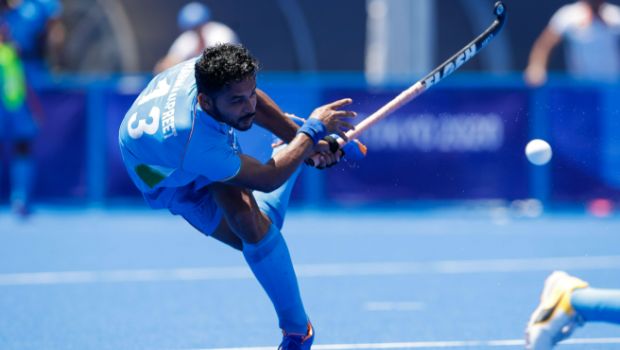 India skipper Harmanpreet Singh scored twice from penalty corners as India defeated arch-rivals Pakistan 4-0 on Wednesday to remain unbeaten in the Asian Champions Trophy hockey tournament. India played confidently and absolutely dominated the match, having already secured their semifinal berth prior to the match, while Pakistan was constantly playing catch-up. It was a commanding win for Men in Blue. Team India won four of its five games and finished at the top in the group stage with 13 points.
Pakistan, who are eliminated from the tournament, will next play in the playoff to secure fifth place. In the first half, Harmanpreet scored two goals. Jugraj Singh scored the third goal, and Akashdeep capped it off in the final quarter with a deflected goal. India will next play Japan in the semifinals at the Mayor Radhakrishnan Stadium on August 11, Friday. Japan managed to finish 4th by defeating China 2-1.
At the end of the first quarter, Harmanpreet Singh gave India the lead by completing the team's first penalty corner with a strong low flick to the left of Pakistan custodian Akmal Hussain. In the 23rd minute, India gained their second penalty corner, and Harmanpreet scored with a fierce drag-flick between Pakistan goalkeeper Akmal's legs.
India continued to play with momentum and frequently attacked its opponents. Jarmapreet Singh tried to send a cross from the left, giving India another penalty corner. Hardik Singh recovered to his customary position, but Harmanpreet's attempt was deflected wide by a rushing defender.
India was awarded another penalty corner, but it was deflected wide despite being on target. India requested a review, however owing to a lack of concrete evidence, India managed to get only a long corner and also lost their review.
Pakistan tried to gain some momentum in the third quarter. But they failed to produce any circle penetration. Pakistan captain Umar Bhutta stole the ball but his run was blocked by the Indian defense on time. A few moments later, India got a penalty corner, and this time Jugraj took the shot at the goal. The Pakistan goalkeeper got a hand at the ball but failed to stop it from rattling the goal.
Mandeep rolled the ball toward the post and Akashdeep standing right next to the Pakistan goalkeeper deflected the ball past him to make it 4-0 and seal a remarkable win.