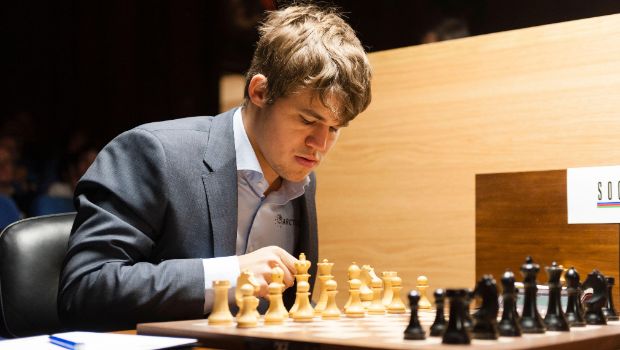 Magnus Carlsen has caught Rameshbabu Praggnanandhaa in the lead of Oslo Esports Cup after scoring a crushing 3-0 victory in their Round 4 match. World Champion has now won five rapid games in a row. The Norwegian Grandmaster Magnus Carlsen now shares the lead with the teenage Grandmaster Praggnanandhaa at nine points after defeating him with ease. Carlsen yet again proved that he is the nest in the world.
Grandmasters Jan-Krzystof Duda and Leim Quang Le follow the top two with seven and six points respectively. The Dutch chess Grandmasters Anish Giri and Jorden van Foreest have won five points so far. At the end of the line, we find Grandmaster Shakhriyar Mamedyarov with four points and Eric Hansen with just three points.
Considered as one of the tough contenders, Liem won against Hansen and still has a game to spare. Earlier, India's young Grandmaster Praggnanandhaa won the maximum USD 22,500 prize money after crushing Liem of Vietnam in the third round.
All eyes were on the showdown between World Chess Champion Magnus Carlsen and 16-year-old rising star Praggnanandhaa in Round 4. The match lived up to the hype as two months before Praggnanandhaa caused a sensation in the chess world by beating the World champion in the Airthings Elite tournament. The first game was an epic and fantastic fight, where Carlsen emerged from complications with an extra pawn and managed to script a narrow path victory in 76 moves.
The Indian rising star Praggnanandhaa did not get downhearted and played on to apply heavy pressure in the opening of the 2nd game. But when Carlsen survived the 16-year-old young player felt his opponent got a little carried away. Pragg was too ambitious and played for an attack when it is not a necessary one. In an already tough position the Indian then went for a tactical solution with a fatal flaw. The game did not last long as all his other moves also lost as well.
Pragg then faced a terrible situation of winning the next two games to force tie-breaks. In a position where precise defense was much-needed, Pragg went for an unjustified attack. And this decision allowed Carlsen to produce a massive attack.
After losing the game, Pragg stated that he would like to put up more resistance against the World champion. It would be a great learning experience for the Indian teenager, who has a lot to see in the future.