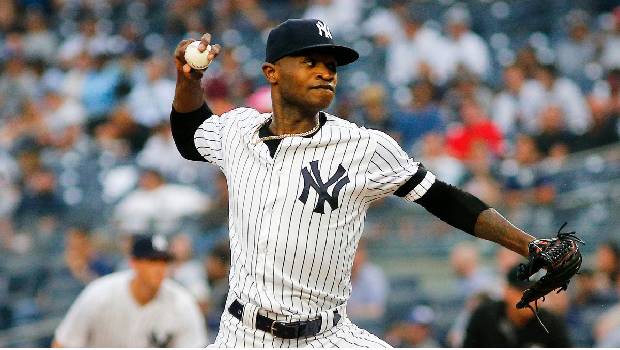 Yankees right-hander Domingo Germán on Wednesday issued his public apology for his violent actions that resulted in him receiving an 81-game suspension for the violation of Major League Baseball's policy against domestic violence.
Germán in his statement said that he likes to take this opportunity to sincerely apologize to his teammates, the Steinbrenner family and those around him. Germán communicated through an interpreter and added that he had done mistakes that he is not proud of for which he wants to apologize.
The Yankees pitcher earlier had addressed his teammates this week and had spoken with general manager Brian Cashman and manager Aaron Boone privately.
Germán also asked for forgiveness to his team for not being with them during the 2019 season playoffs, a time when the Yankees needed him the most. He added it was difficult for him to see his team play and not be of assistance in the mound during his 81-game suspension.
The Athletic a sports news website published new details regarding the domestic violence incident recently.
Yankees' first baseman Luke Voit said this as his second chance and that the team has his back but he's skating on thin ice. Voit hopes Germán gets his life together and does the right steps in order to prove to his team that he can do it.
Domingo Germán's suspension included mandatory counseling and spanned 18 games during the 2019 regular season and postseason, carrying through the entire pandemic-shortened 2020 regular season. Unable to resume play Germán had announced briefly his retirement last summer.
Meanwhile few of Germán's teammates have been reluctant in welcoming him back to the team. This made the club explore avenues where Germán could address players behind closed doors. Yankees' star hitter Giancarlo Stanton said the team's move to have Germán address the team was a very smart move.
During the 2019 season, Germán with an 18-4 record and a 4.03 ERA in 27 games was Yankees' better starting pitchers. According to Boone the Yankees still
consider Germán as a starting pitcher, but it is to be seen whether he could get back his form.
Germán concluded his apology by saying his goal is to work hard and bring back his career to the track as it was his dream to pitch in the Major Leagues and that he is thankful to still have that dream.