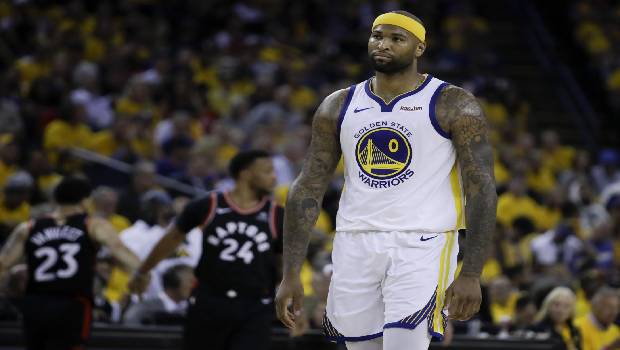 Big man DeMarcus Cousins found a new team. He confirmed to Marc Spears that he has agreed to sign a one-year deal with the Houston Rockets.
After having an injury-ridden season with the LA Lakers, they waived him off in February before he played a single game for them. He was recuperating from a torn ACL and the team released him so that they could add Markieff Morris.
Cousins told he was grateful for the opportunity and was excited about the future.
During a workout in August 2019 Cousins tore his ACL after he signed a one-year deal with the Lakers and appeared to be working his way back toward playing status before they waived him.
Lakers head coach Frank Voge during the February All-Star break told Cousins was on track to get healthy before the playoffs.
This was even before the playoffs and the end of the regular season were pushed back by a hiatus caused by Covid-19 which gave DeMarcus Cousins additional time to recover from his injury before the season resumed inside the bubble in Orlando, Florida.
However, he failed to play in 2019-20 and due to his injuries, he will serve as a substitute as he adjusts to his new team.
In January 2018 while playing for the New Orleans Pelicans he also ruptured his Achilles and later in April 2019 tore his left quadriceps in the first round of the playoffs while representing the Golden State Warriors.
The 30-year-old seems unlikely of becoming one of the best big men in the NBA. He was picked in the 2010 NBA draft by the Sacramento Kings after which, he became a four-time All-Star and progressed to a two-time All-NBA selection.
Cousins can also drop the ball from the perimeter, but the Houston Rockets if James Harden stays will probably make him do most of the 3-point shooters. Although it is imminent that the addition of Cousins will bring some much-needed stability into the team.
PJ Tucker was the go-to man for the Houston Rockets has the played without a center last season and had a small team the entire season.
Cousins has indicated his potential as a matchup problem by connecting on 35.9% of his triples in New Orleans and could have a chance to build on those numbers and if he stays fit, the Rockets are fine.