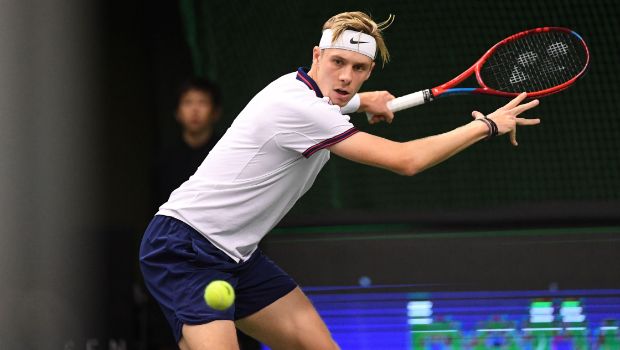 Canada won their first-ever Davis Cup title on Sunday after Felix Auger-Aliassime eased past Australia's Alex de Minaur in straight sets 6-3, 6-4. Auger-Aliassime produced a stunning performance and played complete tennis to give his country an unassailable 2-0 lead in Malaga, Spain. Canada defeated 28-times winner Australia to be crowned as the World champions for the first time in the competition's 122-year history. Lleyton Hewitt's dream of regaining the Davis Cup title for Australia after two decades has ended by the firepower of Canada. Earlier in the day, Thanasi Kokkinakis was put to the sword by Canada's Denis Shapovalov.
The world no.6 Auger-Aliassime showed his surprising talent once again as he produced 16 winners compared to five from his opponent. The 22-year-old Canadian came from 0-30 down and on serve to win the match as he struck a lethal forehand. Auger-Aliassime fell behind the baseline and waited for his teammates to race off the bench and pile on top of him.
The Canadian fended off three break points early in the first set but found his momentum in the eighth game, where he broke De Minaur with a powerful overhead smash. De Minaur, ranked 24, failed to convert any of his eight break points and paid the price for it. Auger-Aliassime sealed the final game of the first set with an ace.
Auger-Aliassime remained calm and continued to play with confidence in the second set as he defended two break points in the second game. Later on, the Canadian star player pumped his fist when he broke his Australian opponent with a beautiful forehand winner in the third.
He fought back from 0-30 to hold serve in the sixth game and flopped to the ground after clinching the trophy for the 2019 runners-up. Auger-Aliassime relied on his consistent serve with six aces and solid baseline play.
Shapovalov, who was not in fine form, delivered an aggressive play to beat Kokkinakis 6-2, 6-4 and gave Canada a 1-0 lead. Shapovalov, who had mixed weeks in Malaga, dropped both his singles match this week. The 23-year-old Canadian struggled with a back problem during a three-set loss in the semifinals to Italy's Lorenzo Sonego. But the left-hander moved quickly around the court against his opponent in the final, setting up angles to put away winners and racing to stun the Australian.
Finally, it was a comprehensive win for Canada. There was no need for a deciding double, which would have featured the pairing of Jordan Thompson and Max Purcell against Auger-Aliassime and Vasek Pospisil.