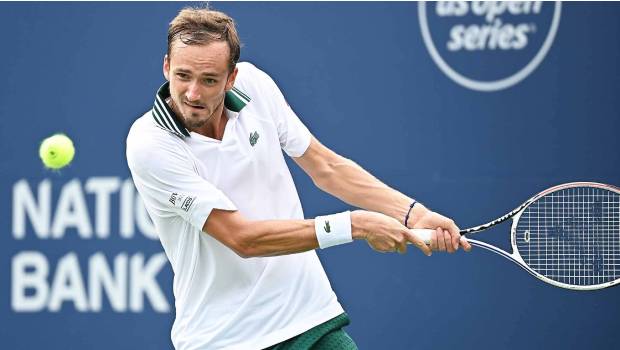 Daniil Medvedev registered a 4-6, 6-3, 6-4 win over Alexander Bublik in the second round of the ATP 1000 National Bank Open in Montreal. Daniil Medvedev advanced to the third round after winning a match, that was delayed by the weather. Top seed Daniil Medvedev played exceptionally well to overcome a poor start.
Daniil Medvedev struggled with his serves early on and lost the first set 6-4. But rain interrupted the game at the start of the second set. Medvedev came back strong as a changed man after the rain delay. Medvedev broke Bublik's serve for the first time in the sixth game. Then the Russian went to level the match and broke the serve again at the start of the decider to overhaul Bublik. There was only one breakpoint in the third set.
Daniil Medvedev took two hours to secure the victory. He scripted a 5-0 career head-to-head record against Alexander Bublik of Kazakhstan. But for the first time, he had dropped a set against the Kazakh player. This pair had met three times this year, first at the French Open in May and again recently at the Olympic Games in Tokyo. Medvedev proved to be the best in all three meetings.
There was some fun on the tennis court as Medvedev was handed a hindrance penalty by the chair umpire after winning a mystery point. Later on, the Umpire explained that Medvedev was speaking during the point.
Daniil Medvedev is having a fearless year so far; he reached his first-ever Australian Open final but lost it to Novak Djokovic. The 25-year-old youngster was very impressive in his debut Olympic Games and made it to the quarter-final. Medvedev lost to Rafael Nadal in the finals of the 2019 Toronto event last year.
Rafael Nadal, a five-time champion of the ATP Toronto Masters has pulled out from the tournament due to persistent pain in his injured left foot. Spanish Feliciano Lopez will replace Nadal in the main draw.
Rafael Nadal will return to Spain for treatment of the injury. This injury is a hindrance in playing the tournaments. Nadal's foot injury has kept him out of the Wimbledon and the Tokyo Olympic Games. Nadal made a shocking exit in the third round of the Washington Open last week.
Rafael Nadal said that he is not able to enjoy the play along with the pain. Nadal added that he will turn his attention to get fit ahead of the U.S. Open, which starts on 30th August in New York.