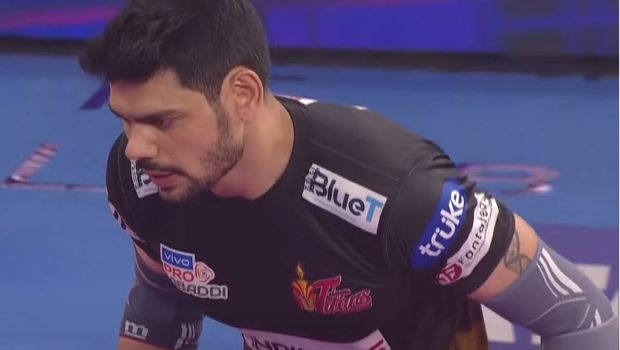 Tamil Thalaivas put up a clinical performance to secure a dominant 34-20 win over U Mumba in a Pro Kabaddi League match at the Gachibowli Indoor Stadium. With a comfortable win, Tamil Thalaivas jumped three places to the fifth position in the points table, whereas, U Mumba slipped to the eighth position. Thalaivas' captain Sagar led his team from the front with 8 tackle points while Narender Hoshiyar chipped in with 7 raid points. Ajinkya Pawar gave good support to his team with 5 raid points, meanwhile, Sahil Singh picked up 5 tackle points.
Both teams started well to play out a neck-and-neck contest in the opening minutes and the scores were level at 2-2 in the 4th minute. However, Narender picked up a point in a do-or-die raid and then Sagar tackled Guman Singh to take a 5-3 lead in the 8th minute of the game. A few moments later, Pawar was involved in the clean-up act for the Thalaivas as he took out both Shivansh Thakur and Rinku to inflict an ALL-OUT on U Mumba. It was quite early in the game and Thalaivas attained a stronghold of the match at 10-3.
Tamil Thalaivas kept forging ahead as its defenders Mohit and Sahil Gulia got tackle points in quick succession. But on the other side, Narender got tackled by the U Mumba defenders in consecutive raids. U Mumba's Jai Bhagwan pulled off a multi-point raid and Mohit tackled Pawar to keep their side alive in the contest at 8-14 in the 28th minute. The Mumbai team had an excellent opportunity to inflict an ALL-OUT when there were only two Thalaivas players on the mat.
But they failed to do so as Narender effected a raid and Himanshu pulled off a SUPER TACKLE soon after to help their team take a comfortable 18-10 lead at the end of the first half. Ashish produced a multi-point raid for U Mumba in the opening minutes of the second half and reduce the gap to 12-20. Later on, the third SUPER TACKLE came from Thalaivas as Gulia firmly held Ashish from the back.
Narender then produced a brilliant and timely dubki to help his side attain a ten-point lead. However, U Mumba did not give up and stayed afloat after tackling Pawar. But the Thalaivas eventually inflicted an ALL-OUT in the 37th minute and took a huge lead at 32-18. Tamil Thalaivas rode on the momentum to clinch a comprehensive victory.