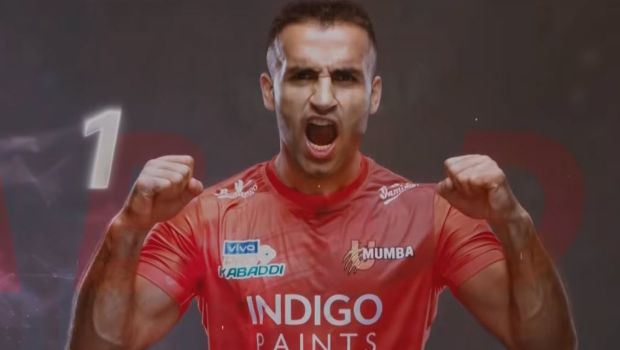 Patna Pirates thrashed U Mumba to register their sixth win of the season. Patna Pirates dominated from the start and secured a massive 43-23 win. The record three-time champions are now the table toppers with 34 points piping Dabang Delhi. Patna Pirates continue to dominate in all matches and extend their unbeaten streak largely due to their versatile squad. Pirates are so strong in their raids but their defenders stood up and scored 18 points to ensure the victory.
A sheer dominance from the Pirates and this win must boost their confidence to move forward in the tournament. U Mumba has to forget the defeat and look on the positive side to bounce back strong. Neeraj Kumar was the star Pirate with 8 tackle points. Prashanth Kumar Rai and Sachin supported him well by scoring 7 raid points each.
Abishek Singh battled lone for the Giants with 8 raid points. Ashish Kumar and Rinku tried hard to cut the deficit but managed to score only 4 and 3 tackle points respectively. U Mumba tried hard to make some miraculous effort in the second half, but the Pirates never allowed them to come back strong.
In the second match of the night, Gujarat Giants outclassed Telugu titans to claim up to the seventh spot. Gujarat Giants proved to be good for the Titans and clinched their second victory of this season. Telugu Titans who have yet to register a win, are at the bottom of the points table.
Both teams showed Great Spirit on the mat but Gujarat proved to be the Giants. Gujarat Giants have performed well in all matches despite their position on the table. Giants' much-famed defense helped them to clinch a comfortable 40-22 win against the Titans. Rakesh Sungroya was the standout performer of the match. Rakesh scored a game-high 16 raid points with 2 bonuses.
Mahendra Rajput and Rathan were brilliant on the mat with both raid and tackle. Gujarat Giants made two super raids to make an all-out on the Titans. Rajnish Dalal proved to be the best player for the Titans. Dalal finished with 12 points which include one tackle and three bonuses.
Telugu Titans' other raiders failed to deliver well and lost the points by making unwanted errors. Poor raiding from the Titans cost them the match. It is the main factor that hurts them a lot in this season. Gujarat Giants and the Titans have shown glimpses of their immense potential despite their losses in the tournament.