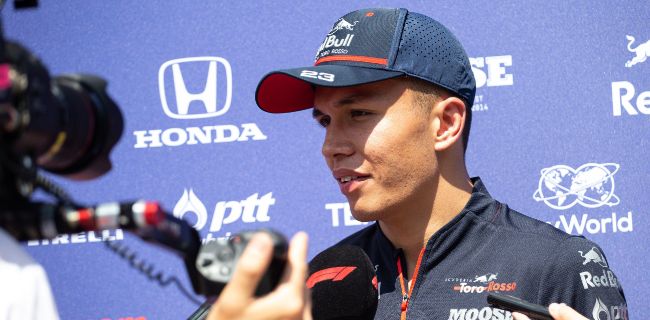 In a special unveiling ceremony at the company's headquarters in the United Kingdom, Williams Racing showcased the eye-catching matte livery that will adorn their FW45 challenger during the 2023 Formula 1 World Championship season. Williams has shown off the colour scheme that will eventually be used on the FW45 car the team is currently building. Williams revealed their new look in the presence of their drivers, American Logan Sargeant and Thai-British racing driver Alex Albon. Williams' 2023 livery bears a considerable resemblance to the colours with which it ended running in the 2022 season.
The FW45 car will be driven by Sargeant and Albon for the first time in a shakedown event at Silverstone on February 13 (Monday). Williams Racing team also announced the American petroleum giants Gulf Oil as a new sponsor along with several new partners. The FW45 bears the logo of Gulf Oil being one major addition.
Gulf Oil has been associated with several teams since its foray into motor racing in 1936. Their famous blue and orange livery has featured in many series and cars across the decades, and not just in F1. Audi, McLaren, Porsche, and Aston Martin are some of the teams that have previously been associated with the brand.
Matthew Savage, Chairman of the Board at Williams, has expressed his excitement about the partnership with Gulf Oil. Matthew said this signifies the strength of their brand and commercial offerings as they continue their transformation. Gulf and Williams Racing share an illustrious motorsport heritage and together, we are making history with this partnership, added Matthew.
After an uninspiring 2022 season, Williams Racing has reorganized its team, parting ways with team principal Jost Capito and replacing him with Mercedes' Motorsport strategy director James Vowles. Vowles is an important person and his brilliant strategies helped the Mercedes' drivers to clinch countless victories.
Vowles is set to begin working with the British team at Grove on February 20, three days before the drivers begin 2023 pre-season testing at the Bahrain International Circuit.
Williams has also reworked its driver line-up. They retained Albon but replaced Nicholas Latifi with Sargeant, making him F1's first American driver since 2016.
Albon, who will begin his second season with the team this year, is excited about what is in store. Albon said he is really excited to be starting back for another year with the team. The car looks great and will hit the track at Silverstone.