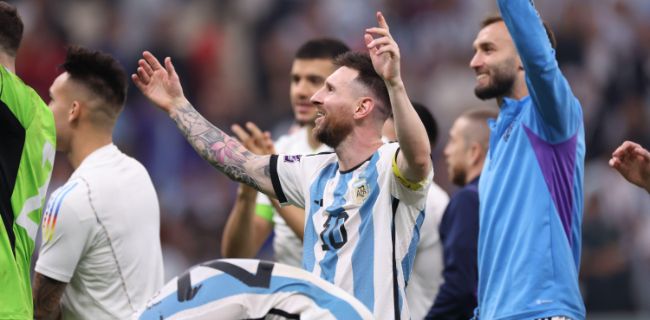 Argentine star Lionel Messi produced an eye-catching performance and guided Paris Saint-Germain to a 3-1 victory over Montpellier in a Ligue 1 game. Messi inspired PSG to extend its lead to five points at the top of the table. With their star strikers Kylian Mbappe and Neymar not playing, the French giants completely relied on their World Cup winning forward player. Messi helped PSG to further solidify their case for the domestic title after a couple of hiccups since the league's resumption post World Cup that included a 3-1 defeat to Racing Club de Lens.
'Calm down' were the two words Messi uttered to the PSG sports advisor Luis Campos at halftime against Montpellier. Campos told Mundo Deportivo that he remembers what he said to Messi at halftime during a must-win game, you have to lead everyone else. And the Argentina captain produced an exceptional play in the second half of the game.
With Messi producing some brilliant performances in recent matches, questions about his future at the French club have been asked by many experts. The 35-year-old GOAT joined PSG in the summer of 2021 on a two-year deal and with his contract set to expire, Campos has now revealed that the club is working on an extension.
The PSG sports advisor confessed that right now the club management is having conversations with Messi to extend his contract. Campos wishes to keep Messi in the project, and he is not going to hide it. Campos stated that they are talking right now to achieve this goal and continue having the world-star footballer with them.
Messi joined PSG after Barcelona failed to offer him a contract owing to a financial crisis. The Argentina captain is the reason why PSG is still confident of the upcoming few games despite French star Mbappe being ruled out of action due to injury. Campos admitted losing Mbappe is very hard, but the 24-year-old forward was seen very sad after the injury. The 58-year-old football advisor expressed that Mbappe is working well to speed up his recovery as soon as possible and that is the personality of the winners.
Campos stated that the Brazilian star Neymar completes the French club's ultimate forward trio. He further added, Neymar is always punctual and is an incredible player. Campos concluded that apart from these three, the club also needs others to contribute. PSG has made a lot of progress and must continue to do so to clinch their first-ever Champions League title.