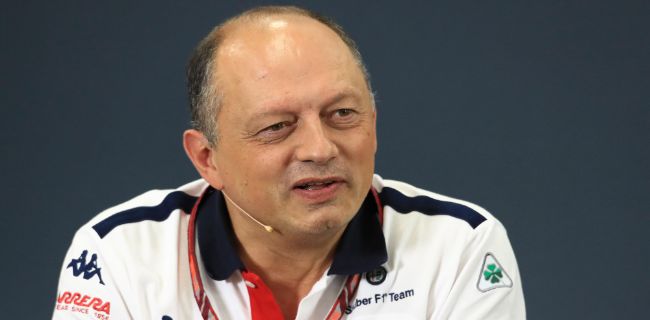 Ferrari unveiled their latest challenger, the new SF-23 car for the upcoming Formula One season, during a special Valentine's Day presentation from the team's Maranello headquarters on Tuesday. Following Monday's reveals from Aston Martin and McLaren, it was Ferrari's turn to show off their new creation of 2023, red-dominated silvery design Scuderia gunning for Red Bull and world champion Max Verstappen.
The launch proceedings were taken charge of by Ferrari's new Team Principal Frederic Vasseur, who arrived at Ferrari from Alfa Romeo as the replacement for Mattia Binotto. Vasseur will be working hard and give his best to address the problems that ended Ferrari's hopes of beating arch-rivals Red Bull to title glory in 2022. With irresponsibility, strategic blunders, and driver errors, Ferrari experienced their downfall.
Though there is change at the top of the team, Charles Leclerc and Carlos Sainz will continue together as Ferrari's driver pair for a third season. The Scuderia finished second in the drivers and constructors championships last time out after an error-strewn campaign, way behind Red Bull whose champion driver Verstappen comfortably retained his title.
Leclerc took the SF-23 for a spin around the Maranello track in front of some of the team's passionate supporters. The Monacan driver said that the goal is to win, clearly. The 25-year-old driver recently commented that he feels more mature following his recent setbacks. He further added that the feeling of winning is what motivates him, and motivates the team members too. Leclerc expressed that he is really looking forward to getting back in the car and trying to win the championship.
Binotto was considered culpable for last season's frequent problems, including pitlane errors which damaged Leclerc's attempt to keep up with Verstappen. Ferrari began with two wins in the opening three Grands Prix but was then swept aside by Red Bull and Verstappen, who won the drivers title with three races remaining and eventually finished 146 points ahead of Leclerc.
The new car is designed with the aim of improving aerodynamics and the reliability of the engine, the latter being one of the key problems last season, said Vasseur. You can feel the responsibility for the team, it is a great honor but at the end of the day the important thing is to be successful, added the 54-year-old Frenchman. Vasseur concluded that the team has done a good job this year and they are ready for the season.