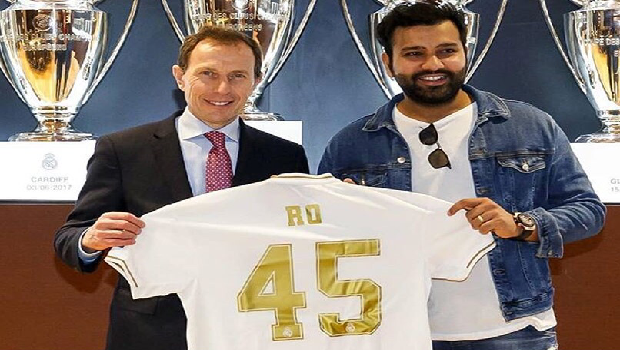 The Indian cricket vice-captain Rohit Sharma was resting from a calf injury incurred during the T20i series, after submitting classic boundaries in the New Zealand January-February tour. Currently, the recovered player is touring Spain with family and visited famous monuments in the city like Chocolate San Gines, Palacio Real, and Plaza Mayor. On another occasion, the La Liga football cup, which is commencing, had Real Madrid Vs Barcelona match on Monday, 2nd March 2020. Real Madrid had the Indian cricket team's vice-captain, Rohit Sharma, to the match at the Santiago Bernabeu stadium in, Spain, and Rohit Sharma enjoyed the football game by being a Real Madrid fan with 10,000 others in the stadium.
The home players won the Barcelona team to a score of 2-0, by delivering the two goals in the last 20 minutes of the game. Tuesday, on 3rd March 2020, Emilio Butragueno Santos, the Director of Institutional Relations presented the Indian cricketer with a jersey customised with the player's name as 'RO 45'. Rohit Sharma is currently representing the Real Madrid football club as an Indian ambassador. The director of Relations in the Real Madrid Instagram page shared the post captioned as "It was great to have @RohitSharma45 at the Bernabeu", to which the Indian batsman replied the caption as "HalaMadrid what a win the other night and thank you for the experience". Later Rohit Sharma reposted the image with a caption "Thank you for the warmest welcome @realmadrid #repost".
On Monday, 2nd March, Madrid was heavily defended by the Barcelona players who saved Real Madrid's goal in the margin of the team's goal post. But, the first goal earned by the Madrid player Vinicius Jose Paixo Junior, from an outstanding execution of passes. Karim Benzema the forward player of Real Madrid began the pass with Junior, who received the ball back twice. In the final pass, Toni Kroos alerted Junior to cover the position, and Junior volleyed the 1st goal in the 70th minute.
The second goal volleyed at the 91:37 minute by the Real Madrid player Mariano Majia, from a corner shot in an unexpected time, by the opponents has the team topping La Liga table. The Indian top-order batsman tweeted that "It was nice to meet some of the legends of the game at the #ElClasico party" after celebrating the night with the El Clasico players.