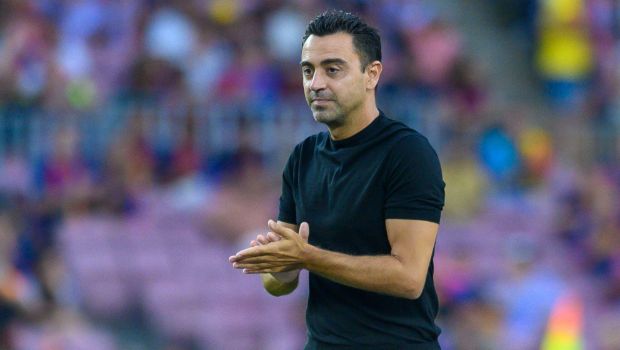 The Argentine superstar Lionel Messi sees his contract with Paris Saint-Germain expire next month and still, there is no progress as yet on an extension. Saudi outfit Al-Hilal and MLS side Inter Miami have shown their interest in the past to sign Messi. Argentine outlet Ole has now revealed that several unnamed Premier League clubs have also emerged as potential destinations. But fans are expecting Messi to make a romantic return to Barcelona. Italian football journalist Fabrizio Romano reported that a decision will be made soon by Messi in the coming days.
Barcelona's manager Xavi Hernandez has revealed where Messi would play for his team if the Argentine captain make a fairytale return. The 2022 World Cup winner has been linked with the Spanish heavyweights with his contract at PSG set to expire this summer. And according to Xavi, the GOAT Messi could occupy multiple positions in his line-up and would be an integral part of Barca's future success if he returns to Camp Nou.
Speaking to Spanish publication Sport, the 43-year-old Spanish footballer explained how the Blaugrana would adopt the same playing style even after La Pulga's return, no, it would be practically the same, the same idea and model. In that sense, Xavi understands that Messi could play in various positions, in various positions, as a false nine, as a winger, as an inside player, and even at the base coming in to make the final pass.
Various critics have questioned Messi's defensive abilities and whether he would suit the former Barcelona midfielder's system in a side that is aspiring for European glory in the upcoming campaign. To brush aside these arguments Xavi stated that the team plays a crucial role in this, and in the end, you cannot ask Dembele for the same defensive level as Kounde.
Xavi further gave Robert Lewandowski's example to strengthen his statement, it should be compensated by footballers. In the end, work and obligations are the same for everyone. And we have seen it with Lewandowski, a world star, who has adapted very well to our high pressure, to our pressure after losing the ball, to our mid-low block. Well, the same for the footballers who can join. with Xavi suggesting that Messi's addition would strengthen the Spanish heavyweights, Barca would try their level best to bring their favorite son back to the Catalan side. However, multiple reports have suggested that Messi intends to play European football for a few more seasons.