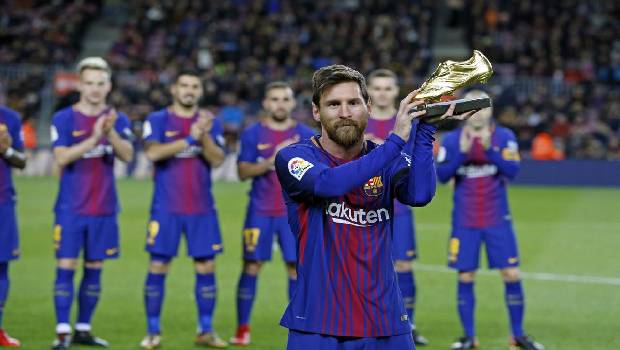 Barcelona and SD Eibar football clubs battled at the Camp Nou in Spain's football ground for the La Liga Cup on 22nd February 2020. In the 25th round, the match had Lionel Messi captaining the Barcelona team and Gonzalo Escalante leading the SD Eibar team on the football stadium.
Lionel Messi the long-known footballer was off the goal radar for a long time, and the media had chewed Lionel Messi alive. The Barcelona captain volleyed hattrick for the team, one more by Messi in the second half, and another goal from Arthur seals Barcelona with 5, against Eibar nil.
SD Eibar players initiated the pass between Cote and Sergi Enrich who chased the ball to volley which only to resulted in offside, and the second time when given a chance Orellana passed to Inui who aimed a volley, was let down by the Barcelona goalkeeper Marc-Andre Ter Stegen. Barcelona had done watching the failed tries because soon they opened an account, with the 1st goal from Ivan Rakitic pass to Messi in 13:45 minutes.
Before the second goal, a rushed pass between Rakitic and Messi twice sent the ball out of the ground, but in the close of 36th minute the Messi's team who began the chase from the margin had Sergio Busquets to receive the pass and to Messi who kicked through the corner near the Eibar's goalkeeper's inner box to goal.
3 minutes past the last goal, the Barcelona key player Messi registered the third goal by in the scoreboard with a supportive pass from Antoine Greizmann and a smooth flick had recorded a hattrick for Messi in the game. Greizmann while executing the pass from Messi, Nelson Semedo, and Arturo Vidal, the volley only ended in the Eibar's Dmitrovic hands. In Greizmann's 2nd volley, Dmitrovic collides with the player's foot and in another try Greizmann's teammate, Semedo misleads the ball.
After an hour past 10 minutes, the fourth goal for the day earned by the Barcelona players was by Rakitic to Lionel Messi, then to Vidal, Martin Braithwaite and back to Messi to volley. 5th goal from Barcelona football players volleyed at 88:47 minutes by the Martin Braithwaite's and Arthur's communication of passes between the ball. Currently, Barcelona is holding the first place, with 55 points in the La Liga table for the 2019-2020 season.