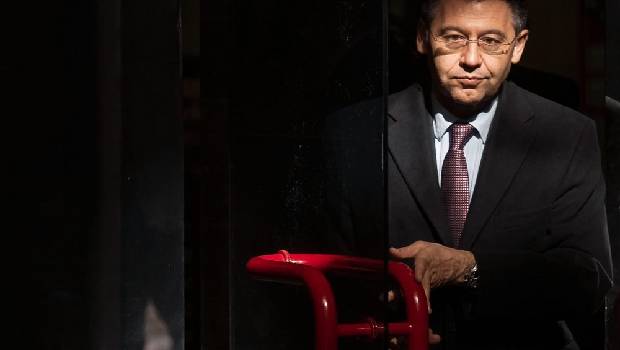 Barcelona's former president Josep Bartomeu on Monday was arrested in connection with the police investigation of 'Barcagate' scandal that erupted last year. Asides from Bartomeu three other individuals were arrested on Sunday, six days ahead of the new presidential elections. Bartomeu resigned from being Barcelona's president in October.
The Catalan police after a raid in Barcelona club's office current CEO Oscar Grau, Bartomeu's advisor Jaume Masferrer and head of legal services Roma Gomez Ponti were also arrested. There are reports that suggest Bartomeu and Masferrer will have to spend a night in jail and will be produced before a judge.
A statement was released by Barcelona confirming that this operation is indeed linked to the Barcagate controversy. The club was accused of covering up payments made to a company called I3 Ventures which was specifically hired to boost the image of then-president Bartomeu on social media. The statement further disclosed that Barcelona has agreed to give its full cooperation with the police authorities regarding the case.
A Spanish radio station Cadena Ser claimed the club paid I3 Ventures an exaggerated fee and put payments through in smaller, separate amounts to avoid the club's financial controls.
Bartomeu maintained the company had been hired only to monitor posts on social media and that it was not commissioned to discredit any player or individual. After more than 20,000 club members signed a petition against him Bartomeu resigned in October. The same month Barcelona reported losses of $114 million for last season and a debt that had doubled to 488 million euros.
Prior to his resignation Bartomeu faced a series of political blunders, oversaw a dramatic decline in the club's performances on the pitch and a falling-out with Messi, where the Argentinian tried leaving the club for free last summer. Messi accused Barcelona of always trying to fill the gaps and do not have a definite aim for the club under Bartomeu's leadership.
On Sunday the club's members will meet to elect Bartomeu's successor amongst the final three candidates Joan Laporta, Toni Freixa and Victor Font.
Laporta in his interview after the arrest of Bartomeu said that he and the club express their utmost respect for the police and the judiciary system. They defend the presumption of innocence and they deeply regret that these recent events would diminish the reputation of the club.