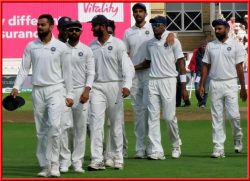 Virat Kohli feels that that England will come highly enthused to wing the fourth Test, saying this at the press conference, "If Nottingham was hard work this is going to be even harder because England would want to come back strong and we understand that. We will have to do even better than we did in Nottingham to be able to get results our war".
Defeating England with an all-round performance that saw the hosts beaten by 203 runs. Jasprit Bumrah, Ishant Sharma and Mohammed Shami comprising the Indian pace battery along with  medium pacer Hardik Pandya had played a pivotal role in the victory, but Kohli the Indian captain ruled out an all complete pace attack for the Southampton Test.
He added, "I doubt that an all-pace attack is the right option. It doesn't make much sense I guess, because last time we played here, the spinners came into play in the second innings. There were big footmarks. Seeing things the way they are right now, we don't feel we need to change anything,"
"The last time around I can't really pinpoint what we did wrong, maybe England played much better than us or we probably didn't have the experience to capitalize on the lead. That's how I see things four years down the line.
"Right now we understand that we are in a very exciting position to have gained momentum at the right time in the series and to have played like that when 2-0 down, when everyone thought it was going to be a clean sweep or we were going to get rolled over," Virat added.
Asked if there was going to be any change in the techniques for the Southampton Test he said", "I don't think there's any need to change the way I've played so far in this series, or other batsmen the way they played in the last game.
He signed off by saying, "If the wicket is behaving totally different, you have to be flexible adjusting there and not having pre-set notions about going out wanting to play a certain way.
"Apart from the pitch, conditions are going to be a massive factor as well because it's cold for the last couple of days and it's going to remain like that from what I understand. We will have to assess the situation every hour I guess because it can change very rapidly".