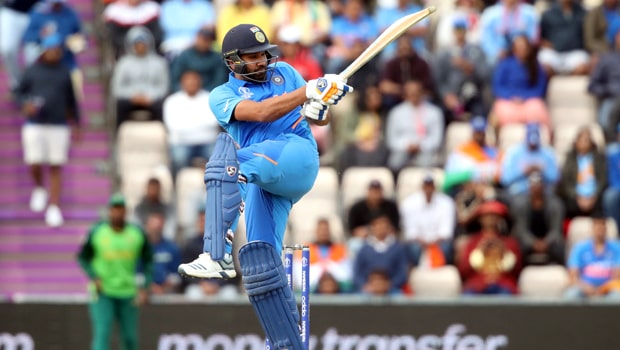 The century against South Africa in India's ICC World Cup 2019 opener at Southampton was Rohit Sharma's 23rd ODI century and 21st as an opener. It's quite astonishing how his fortunes changed ever since Mahendra Singh Dhoni pushed him up to open the innings in ODIs during India's Champions Trophy 2013 campaign.
Since then, he has gone on to smash one record after another in ODI cricket. Ever since Rohit started opening regularly in ODI cricket, he has scored 6136 runs in 120 matches at an astonishing average of 59.00 and an equally good strike-rate of 91.73. The transformation is quite amazing when his numbers before he started opening regularly — 1978 runs in 86 matches at an average of 30.43 and strike-rate of 77.93 — are compared to his opening numbers. So, both his average and strike-rate have taken a huge upward leap ever since he started batting at the top of the order for India. This sums up how certain moves go on to change the fate of a player's career. And Rohit can't thank Dhoni enough for that decisive day back in 2013.
In fact, no other opener in ODI cricket has scored more runs than Rohit during this time period. The one who comes closest to him is his opening partner Shikhar Dhawan. The left-handed batsman has 5294 ODI runs to his name, but in four more matches than him, that too at an average (45.63) which is way lesser than that of Rohit.
Moreover, Rohit's batting average of 59.00 is also the best among openers who have played at least 20 innings during this time period. The next best is Imam-ul-Haq's 57.32. However, he has played just 30 matches till now, that is 90 games lesser than the Hitman. Maintaining this level of consistency over such a long period of time requires immense temperament and character. That's why Rohit is the best in the business right now.
If the number of total fifty plus scores is considered during this time period, Rohit has 50 of them, 21 of which have been transformed into centuries. The next best is Dhawan once again, who has crossed the mark of 50 runs a total of 42 times, followed by Quinton de Kock (36), Hashim Amla (35) and Aaron Finch (35).
Moreover, no other opener has hit as many sixes as him during this period. The next best to his tally of 197 sixes are only Martin Guptill (124) and Chris Gayle (122). No other opener other than them have been able to cross the barrier of 100 sixes during these years and that tells us about the mind-boggling big hitting abilities of Rohit Sharma who is close to breaching the 200-mark for maximums now.
Despite all this success, what's missing in his career record is a World Cup title. He missed out on representing India in the 2011 World Cup and thus becoming a part of a World Cup winning squad. He was there during India's World Cup 2015 campaign but they were knocked out in the semi-final by Australia. However, now he has the chance to lift the Cup once again this year. And the Indian opener would be eager to kick on after starting off in style with a match-winning century.
Written by: Prasenjit Dey