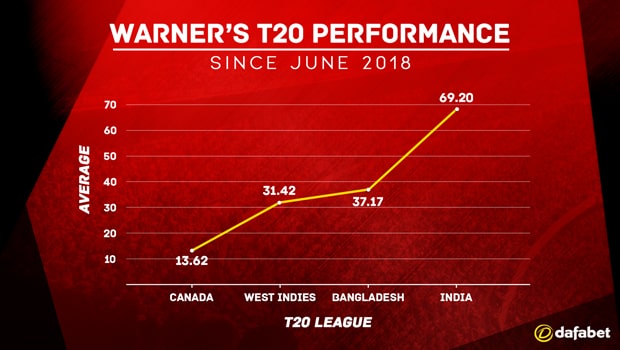 Careers are not built in a day. It takes years of hard work, determination, inspiration, perspiration, and whatnot, to succeed in life. But on the flip side, it doesn't take much to ruin a fully flourishing career and trip over from the pinnacle of success to the farthest depths of failure. Only greed is enough! That's exactly how, a year ago, the world saw the careers and reputations of three of Australia's top sportsmen – David Warner, Steve Smith and Cameron Bancroft – get tarnished and shredded into pieces in the space of just two days, following the ball tampering saga in Cape Town. They were sent back from the tour of South Africa immediately and got the worst welcome of their lives as the Australian Prime Minister shamed them in public in addition to the outrage and dissent of the entire cricketing community.
However, the one who got criticized, shamed and ostracized the most among the three was David Warner. According to reports, he was the one who instigated the entire incident. Bancroft was merely made a scapegoat to carry out orders and Smith had been held accountable for his poor leadership as he was found guilty of not stopping the incident despite having prior knowledge about it. Most people sympathised with Bancroft and Smith after their teary-eyed press conferences. There was still room for forgiveness for the duo in people's hearts, but for Warner, there was no such thing.
His stature had fallen from one of the most loved and admired figures in the country – one who was adjudged the winner of back-to-back Allan Border Medals in 2016 and 2017 and the 'Sports Dad of the Year' award in 2016 – to the most hated one. The roads were now lonely for Warner, the streets beside them were empty. Even the lights had become unbearable for him and he found his solace in the dark alleys.
However, he is not one to stay in hiding and away from the truth forever. Thus began his path of self-discovery as he took some time away from cricket to introspect upon his deeds and actions. Soon, the Australian board gave him permission to play in grade cricket and T20 leagues around the world while serving his one-year international ban.
And when he realised that he was ready to trace his way back to glory once again, he embarked upon his first assignment with the Winnipeg Hawks in the Global T20 League in Canada. He had a tough reboot as he amassed only 109 runs in eight games at a poor average of 13.62. He improved his numbers slightly in the Caribbean Premier League next, scoring 220 runs at an average of 31.42. However, his strike-rate of 111.67 was still not up to his beastly levels. He seemed to be getting back into his groove playing for the Sylhet Sixers in the Bangladesh Premier League though. The southpaw scored 223 runs in 7 innings at a healthy overall strike-rate of 131.17 but an elbow injury ruled him out.
However, he recovered in time to play in the 
Indian T20 League and what happened next is well documented in the record books. He started the 2019 season with a blistering knock of 85 off just 53 deliveries against Kolkata at the Eden Gardens and bid adieu to the season with another trademark knock of 81 runs, thus ending up as the highest run-getter in the tournament with a tally of 692 runs in 12 innings at a mammoth average of 69.20. Those runs include a superb century against Bangalore at Hyderabad, and that very knock had shown that Warner is back at the peak of his abilities. The Australian selectors had openly conveyed that the opener's T20 League form will be considered for World Cup selection and Warner didn't give them any chance to complain with his fabulous showing.
Warner has already left the dark alleys behind and it looks like he is ready to walk on the path of glory once again. All he needs to do now is to win the hearts of the people back home and a good performance in the World Cup can surely do that.
Written by: Prasenjit Dey