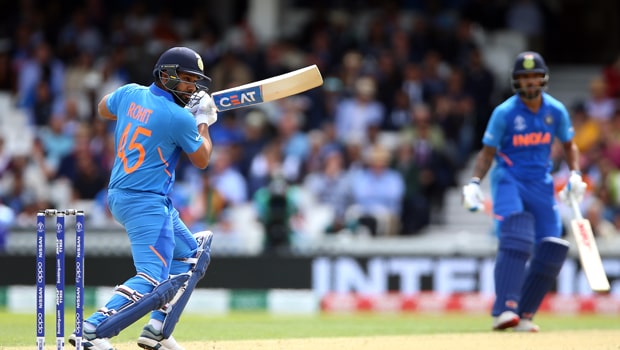 The outcome of every match between two teams depends on some key inside battles involving the individual players, the accumulated results of which go on to define the ultimate outcome of the match. As India take on New Zealand on Thursday at Trent Bridge, the ultimate outcome of the contest will once again depend on the battle between two of their most important players, who are none other than Trent Boult and Rohit Sharma.
Rohit has indeed gotten off to a flying start in the tournament with a century and a fifty to his name in the two matches India has played so far. He has shown exceptional maturity and game awareness in both the matches and has looked determined to put a price on his wicket always. Boult, on the other hand, is having a pretty average tournament by his standards. Although he has been able to keep the run-flow in check, going at around 4.21 runs per over in the three matches New Zealand has played so far, his total tally of three wickets has come at a dismal average of 40.66.
However, things might change when the two players go face-to-face on Thursday. If head-to-head records are considered, Boult has had the better of Rohit in ODIs having dismissed him for a total of four times in 136 deliveries. Moreover, 90 of those deliveries have been dots and that sums up how Boult makes Rohit dance to his tunes.
The Indian batsman has been dismissed for cheap scores on three out of those four occasions and that tells us how important Boult is to the Kiwis in their game plan against Rohit. Moreover, the left-arm pacer has the mental edge going into this match as he has enjoyed recent success against Rohit. He had dismissed him caught and bowled cheaply in the fourth ODI of the five-match series India and New Zealand played against each other at the start of the year. On top of that, he followed it up with yet another LBW dismissal early on in the Indian innings when the two sides met each other in the warm-up fixture before the beginning of the tournament.
So it is safe to say that the tone of the match will be set by either of these two players. The one who goes on to win this battle will give his team a massive advantage in the match.
Written by: Prasenjit Dey