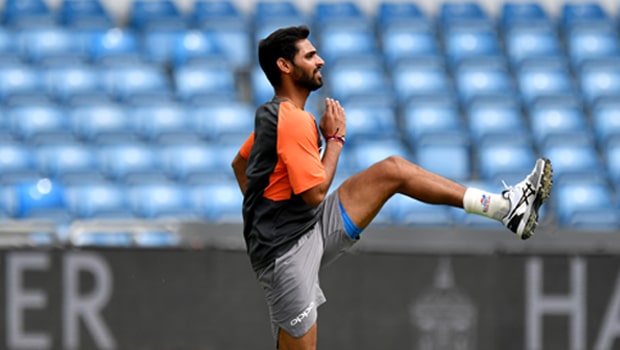 Bhuvneshwar Kumar has formed a terrific pace bowling pair with Jasprit Bumrah in the last couple of years they have played together for India.
If you look at the numbers, a combined tally of 99 wickets in 35 matches at an average of 28.6 and an overall economy rate of 4.92 suggests how brutal and effective the duo has been as a bowling pair. However, on studying Kumar's numbers separately — 41 wickets in those 35 matches at an average of 35.95 and economy rate of 5.23 — it is observed that he doesn't have the same impact as an individual bowler as he has as a pair along with Bumrah.
In fact, it was always his ability to complement Bumrah well that helped him retain his position in the side. However, he won't have the same luxury now with Mohammad Shami breathing down his neck. Shami has made a terrific comeback to ODI cricket having claimed 19 wickets in 11 matches this year at an excellent average of 26.42 and a decent economy rate of 5.13 as well. He had a good outing in the Indian T20 League too, as he claimed a total of 19 wickets in 14 matches as well.
The selectors rewarded him with a World Cup berth in return and now he is a threat to Bhuvneshwar's place in India's XI. Bhuvneshwar has tried to do his bit though. He has claimed 19 wickets at an average of 22.36 in the 10 ODIs he has played this year. The aforementioned average is the best he has registered in any year since his debut. However, his form in the Indian T20 League this year hasn't helped his cause.
He claimed only 13 wickets in 15 matches at a dismal average of 35.46. While Shami has been consistent since the start of the year, both in ODIs as well as the Indian T20 League, Bhuvneshwar's indifferent form doesn't quite make a case for his inclusion in the Indian XI ahead of Shami during the course of their ICC World Cup 2019 campaign. Any player would want to carry good form forward into a grand tournament like this. It boosts their confidence. Unfortunately, Bhuvneshwar doesn't have that to carry into the mega event.
However, Virat Kohli and the Indian think tank might still place their faith in him for the first few matches during the tournament. And Bhuvneshwar will need to make an immediate impact if he wants to retain his place as one of the first names in the XI.
Written by: Prasenjit Dey