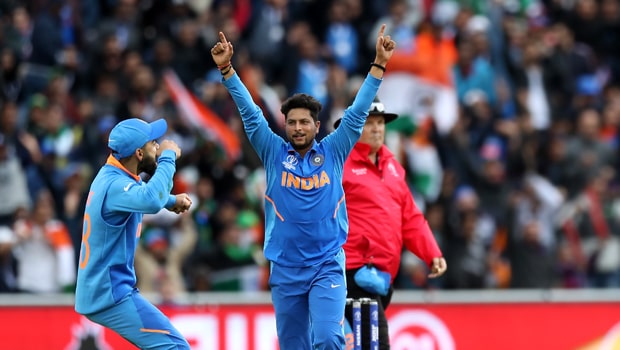 Spinners didn't have much success towards the initial phase of ICC World Cup 2019 as the pitches were mostly fresh, flat and batting friendly. However, they are making their presence felt as the conditions have started drying up now with the tournament progressing towards the business end.
The teams having one or more specialist spinners are going to have an advantage over the teams who have relied only upon pace until now. India is one team that is definitely going to make the most out of these conditions as they have two specialist spinners in the likes of Kuldeep Yadav and Yuzvendra Chahal. Not only that, they have someone like Ravindra Jadeja waiting in the wings for his opportunity as well. Kedar Jadhav is also someone who can pick up wickets with his part-time off-spin. So, their spin department looks well rounded and tackling them may prove to be a tough task for batsmen.
In fact, India is one of the better teams even now in terms of the performances of the spin bowling units of each team in this tournament so far. Their spin attack has picked up 11 wickets in four matches, which is more than five teams—Pakistan, Australia, Sri Lanka, New Zealand and West Indies—who have played an equal or more number of matches than India. South African spinners have the same number of wickets as the Indian unit but in three matches more than them. Only Bangladesh, Afghanistan and England spinners have accounted for more wickets than India with 18, 17 and 14 wickets respectively, but each of them have played at least two matches more than India.
If we consider the bowling averages, Sri Lanka's 26.00 is the best figure among all teams. However, they have bowled only 23.1 overs of spin in their four matches so far which amounts to approximately 5.5 overs per match. West Indies is the only other team which has used spin to such a low extent and statistics suggest that their spinners have been the worst among all teams.
Other than these two teams, New Zealand is the one which has the next lowest usage of their spin bowling resources with a total of 31 overs. Every other team has used 50 or more overs of spin so far and India have used a total of 80 overs in four matches, which amounts to 20 overs per match, that is 40 percent of the total quota of overs available in an innings per match. And both of their average and strike-rate of 36.72 and 43.6 respectively, are the second best among all teams. Apparently, Sri Lanka have the best numbers in this case. However, India's figures become the best in the business if the cut-off is set to a minimum of 50 overs bowled in this tournament. Even their economy rate of 5.05 occupies the same place. It's the second best among all teams but becomes the best if the cut-off is once again set to a minimum of 50 overs bowled.
They have bowled exceptionally well considering the initial conditions in the tournament and their numbers are expected to get even better now. Chahal has been quite good as far as taking wickets is concerned. His eight wickets in the tournament have come at an excellent average and strike-rate of 25.25 and 27.7 respectively. His economy of 5.45 has been decent too. Kuldeep, on the other hand, has been quite effective with an economy of 4.52 but he needs to attack more as he has only three wickets in the four matches so far. If he can do that, the duo will become unplayable and India would hardly have any problem in progressing to the final.
**Note**
Statistics have been updated as far as Australia vs England on June 25, 2019.
Written by: Prasenjit Dey