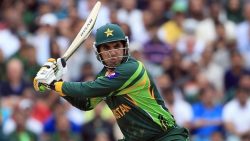 The PCB had recorded complaint against Jamshed with the Anti Corruption Tribunal of five allegations in May this year
Pakistan Cricket Board confirmed on Friday (August 17) that opener Nasir Jamshed has been banned for 10 years by the board's Anti Corruption Tribunal for being involved in spot-fixing which hit PSL in 2016-2017 season.
The opening batsman in April this year, had denied all five allegations against him that were brought out by PCB. This as was made out in a statement by PCB was subsequently taken up by the chairman Najam Sethi for resolution consisting of a three-member anti-corruption tribunal containing Justice (Retd.) Fazl-e-Miran Chauhan, Shahzaib Masood and former Pakistan pacer Aqib Javed.
Nasir Jamsheds ban follows Sharjeel Khan, Khalid Latif, Mohammad Irfan and Mohammad Nawaz who also have been handed out bans of varying lengths.
In its complaint the PCB had alleged that Nasir had through an agent Muhammad Yousuf had enticed 4 other players to be a part of a spot-fixing scandal in Feb 2017 during the second PSL
Nasir has until May 18 to file a reply failing which the tribunal can announce the verdict in the case in 40 days.
He has also been charged with obstruction and for being non-cooperative during the course of the inquiry additional charge also relates to his not reporting being approached by bookmakers for spot-fixing.
The cricketer is already serving a one year ban for non-cooperation during the investigation conducted by the PCB in 2017.