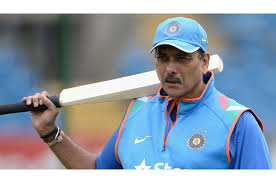 IMAGE: India's Head Coach Ravi Shastri
Chetan Chauhan the former Test cricketer on Sunday called for the removal of India head coach Ravi Shastri holding him responsible for the 4-1 debacle that India suffered at the hands of England during their just concluded Test series, saying he should be removed before the Australia tour in November.
Chauhan said, 'Ravi Shastri should be removed as head coach before the Australia tour. Ravi Shastri is a very good cricket commentator and he should be allowed to do so."
Criticizing Ravi Shastri for saying that the team led by Virak Kohli was the "best travelling team in the world". Saying "I do not agree. In 1980s, the Indian team was the best travelling team in the world."
After the win over England at TrentBridge in the Test on August 16, Ravi Shastri had claimed that the Indian side was the best travelling team in the world.
Asked for his thoughts on the current Asia Cup championship being played in Dubai, he said a better result could be expected as the team was well balanced with experience and young players.
Chauhan had played a total of 40 Tests matches and had scored 2,084 runs during his career between 1969 and 1981.
Debuting against New Zealand in 1969 at Mumbai and had also played his last Test against New Zealand in 1981 in Auckland, he had also played seven one day international matches.
He is one among the latest cricketers demanding the removal of Ravi Shastri along with the former Indian cricket captain Sourav Ganguly and Virender Sahwag.