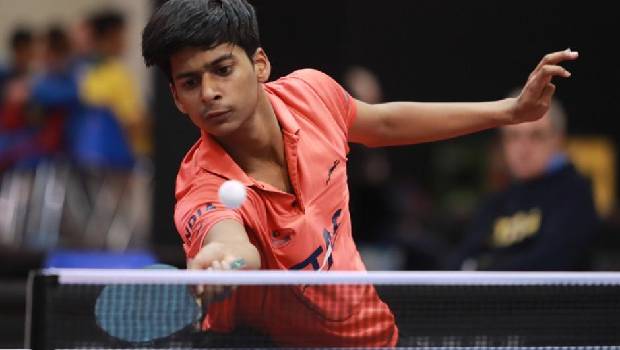 On Monday Snehit defeated the reigning champion Harmeet Desai at the Tau Devi Lal Stadium at Panchkula to reach the semi-finals of the National table tennis championship. When Snehit last played at this venue in the 2018 North Zone ranking event he won against Sharath Kamal and progressed to the finals.
Asides from Snehit prominent names such as G. Sathiyan, Sharath Kamal and Manav Thakkar also secured their semifinals spots. Interestingly, the semifinalists won 4-1. The most anticipated clash in the semi-finals is between Sharath and Sathiyan. Both the players also happen to be Snehit's mentors.
Sharath faced former national champion Amalraj and took the game away from the latter after taking a 3-1 lead. A frustrated Amalraj went on to make many mistakes that took the gave away from him. Eventually, Sharath tasted victory against a worthy opponent.
Sathiyan on the other hand carried his form by taking a convincing win against Sanil Shetty who is yet another former national champion. Shetty made it tough for Sathiyan but the latter rose up to the occasion to clinch a victory. Thakkar defeated Ronit Bhanja in a match that saw several long rallies being played. In the semi-finals Sharath will face Thakkar and Sathiyan will face Snehit.
Amongst all, it was Snehit who shined the most. During the course of his game, the 20-year-old displayed some magnificent scalps against Sourav Saha in the third round, therefore breaking the jinx of losing prior to the pre-quarterfinals in the championship. Later in the quarter-finals, Snehit ployed Harmeet's strength of backhand and it surprisingly worked in his way as the champion was forced into errors. With Harmeet's confidence bulldozed heavily Snehit pulled off the biggest upset of the day.
Snehit next faced Sushmit who uses two types of defensive rubbers on his racquet. The Hyderabadi said he had never played against a player who uses this combination of rubbers so it took him some time to read the returns.
No wonder, Snehit was not unable to lead the game until scoring 10-10 in the second game. He was lucky to get the game-point after the ball struck Sriram's finger close to the table he then made it 1-1. This proved the turning point, as Snehit's free-flowing game was in full bloom in the remainder of the match.